Movie News
First Look at Soul Surfer: Dennis Quaid, AnnaSophia Robb and Helen Hunt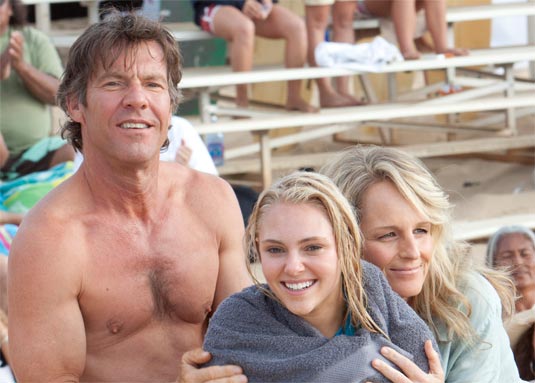 Soul Surfer is the true story of competitive teen surfer Bethany Hamilton, who lost her arm in a shark attack and courageously overcame all odds to become a champion again, inspiring millions worldwide through her sheer determination and unwavering faith. Coming to theaters nationwide on April 15, 2011, this exciting feature film stars Dennis Quaid, Helen Hunt, AnnaSophia Robb, and Carrie Underwood in her film debut. The cast also includes Lorraine Nicholson, Kevin Sorbo and Jeremy Sumpter. The first film to be released under the new deal between FilmDistrict and Sony Pictures, Soul Surfer will go out as a wide release via TriStar Pictures with a broad-based and integrated marketing campaign managed by FilmDistrict. The film was independently financed by Enticing Entertainment and Island Film Group, and is a production of Mandalay Vision, Brookwell McNamara Entertainment and Life's A Beach Entertainment. North American and substantial International rights were acquired prior to the commencement of production by the Affirm Films division of Sony Pictures Worldwide Acquisitions. The film was directed by Sean McNamara from a screenplay by McNamara, Michael Berk, Douglas Schwartz, and Deborah Bonann Schwartz, with additional writing by Ron Bass, Jen Smolka and Kara Holden, and is based on Bethany Hamilton's memoir "Soul Surfer: A True Story of Faith, Family and Fighting to Get Back on the Board." Bethany Hamilton says:
"My family and I are honored to be the subject of such an amazing film. My hope is that the story continues to inspire people around the world to overcome the challenges that face them."
The film was produced by David Zelon, Douglas Schwartz, David Brookwell, Sean McNamara and Roy "Dutch" Hofstetter and executive produced by David Tice and Dominic Ianno, and shot on location in Hawaii.
"The world needs a hero right now," says primary financier and executive producer David Tice. "When I met Bethany and her family, I felt compelled to share her extraordinary life on the big screen."
"Steve Bersch and I immediately responded to the honesty of Bethany's story and its universal message of courage and perseverance,"
says Peter Schlessel, CEO of FilmDistrict, who initiated and approved the production with Bersch while at Sony, and then forged the partnership between Sony and the newly formed FilmDistrict for release of the film.
"Soul Surfer embodies an absolutely amazing story, wonderfully told by the filmmakers, and we're thrilled to play a part in bringing this story to audiences this spring,"
says Bersch, President, Sony Pictures Worldwide Acquisitions. "This movie, with its winning story and cast, is a real audience pleaser. It's the perfect family film for the spring break season." said Bob Berney, President, Theatrical Distribution, FilmDistrict.
Dennis Quaid, AnnaSophia Robb as Bethany Hamilton and Helen Hunt in SOUL SURFER