Movie Photos
First Look: Ben Affleck and Olga Kurylenko Embrace in TO THE WONDER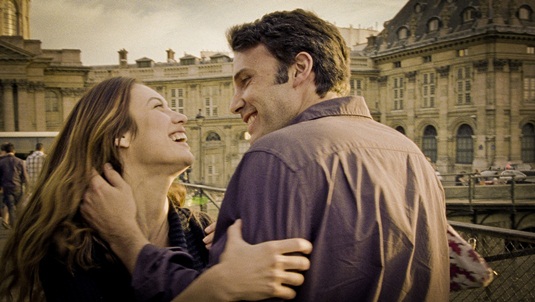 A new image from Terrence Malick's romantic drama To the Wonder has been revealed and it's certainly a better sign of what's in store than has been the same old one of Ben Affleck and Rachel McAdams shot early last year.
Malick's 6th feature film in a career premiered at the 2012 Venice Film Festival on Sunday, September 2nd. Structurally a more modest, more linear film than Tree, To the Wonder explains the meaning of the title right away – the film's title comes from France's Mont Saint-Michel, also known as the Wonder.
On the other hand there is truly no end of sun-flared handheld shots of former Bond-girl Olga Kurylenko as shown in a new photo that features Affleck and Kurylenko having a good laugh in what appears to be an early scene in the film.
Affleck stars as Neil, a man who returns to his small hometown in Oklahoma with Marina, his new European girlfriend (Kurylenko). Problems soon arise as Kurylenko meets a priest who is suffering a crisis of faith (Javier Bardem) and Affleck renews his ties with a childhood friend (McAdams).
The film which received a mixed response out of Venice also stars Charlie Baker, and will have its North American premiere at TIFF this evening.