Movie Photos
First Look: Jim Carrey as Colonel Stars on KICK-ASS 2 Set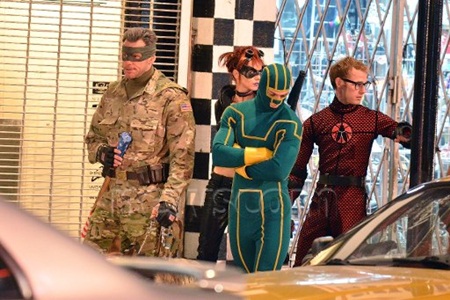 We've known for some time that Jim Carrey has been set to portray Colonel Stars who teams up with Aaron Johnson's amateur superhero in the new Kick-Ass movie.
Well, a first look at the leader of 'Justice Forever' on the set of Kick-Ass 2 on the streets of Toronto (which has been transformed to look like New York) has been unveiled.
Carrey is spotted with a khaki eye-mask shooting the scene alongside Johnson, Lindy Booth and Robert Emms who are clad in Kick-Ass, Night Bitch and Insect-Man costumes.
In addition, a set video of Kick-Ass 2 is shared online — Christopher Mintz-Plasse whose aspiring supervillain Red Mist takes evil to the next level with the help of the brawny broad Mother Russia is seen filming a scene where his character robs a convenience store before fleeing with a taxi.
The Kick-Ass sequel is directed by Jeff Wadlow, who also works to pen the script alongside the first film's director Matthew Vaughn.
Also joining the sequel are Chloe Moretz as Hit-Girl, Nicolas Cage as Big Daddy, Olga Kurkulina as Mother Russia, and Andy Nyman as The Tumor bringing the action on August 16th, 2013.
[youtube]http://www.youtube.com/watch?v=El-_0fJZOZs[/youtube]
[youtube]http://www.youtube.com/watch?v=CUFY_m090Jc[/youtube]