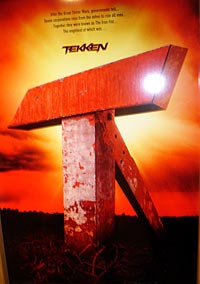 The first shots of the cast from the upcoming video game adaptation movie "
Tekken
" have been released, featuring a look at
Jon Foo
(The Protector) as Jin Kazama,
Marian Zapico
as Anna Williams,
Gary Daniels
as Bryan Fury,
Ian Anthony Dale
as Kazuya and
Mircea Monroe
as Kara.
Jin Kazama is a young and talented fighter with dark power within him. Slowly torn apart and consumed with evil and hatred due to the Devil Gene he has inherited from his father, Kazuya Mishima, he figures out that saving himself means confronting his father and his grandfather, Heihachi Mishima. And his one chance for freedom comes at The King of Iron Fist Tournament.
The film is directed by
Dwight H. Little
( Anacondas 2, Deep Blue, Murder at 1600, Halloween 4: The Return of Michael Myers).