We have added the first photos from the upcoming drama/comedy Lay the Favorite. The film, directed by Stephen Frears (The Queen, High Fidelity, Mrs Henderson Presents, Tamara Drewe), telling the story of Beth Raymer, a former stripper who becomes involved in high stakes gambling and rises in the business very rapidly. Starring Rebecca Hall as Raymer and featuring Bruce Willis, Catherine Zeta-Jones, Joshua Jackson, Vince Vaughn and Laura Prepon. Here's the official plot synopsis:
"Lay the Favorite" follows unpredictable dreamer Beth (Rebecca Hall) as she goes from in-home stripper in Tallahassee to gambler's assistant in Las Vegas, working for Dink (Bruce Willis), one of the most successful sports gamblers in the business. She takes to the work like a natural, but makes the risky bet of falling for Dink, much to the chagrin of his retired showgirl wife Tulip (Catherine Zeta-Jones). That bet goes south, and a triangular war ensues. Against Dink's protests, Beth goes to work for the flamboyant, unstable Rosie who runs a less-than-legal operation in New York City, then for his doomed hyper-speed online sportsbook in the betting Babylon that is Curacao. When Beth's risky gambles result in her innocent boyfriend Jeremy (Joshua Jackson) threatened with prison, she must reunite with Dink, face up to the fearsome Tulip, risk jail, and return to New York City to confront her responsibilities. Can she beat the odds and win the day? In the end, Beth rises to the occasion, saving her boyfriend and winning a stunner of a wager, for a whole lot of money, at the buzzer of a Nets game!
Rebecca Hall and Bruce VIllis
"Lay the Favorite", based on the book by Beth Raymer, "Lay the Favorite: A Memoir of Gambling", is being produced by BAFTA-nominated Anthony Bregman ("Eternal Sunshine of the Spotless Mind", "Friends With Money"), Randall Emmett ("Rambo", "16 Blocks"), George Furla ("Rambo", "16 Blocks"), DV DeVincentis and Paul Trijbits ("Jane Eyre", "Tamara Drewe"). "Lay The Favorite" is due for release some time in 2012.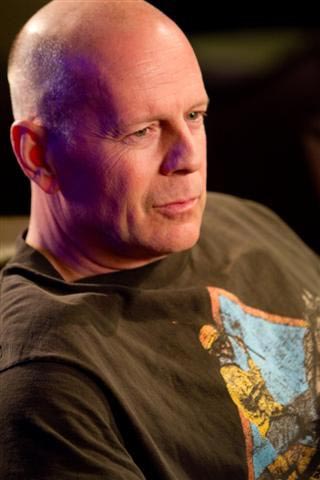 Bruce Villis
Rebecca Hall in Lay The Favorite