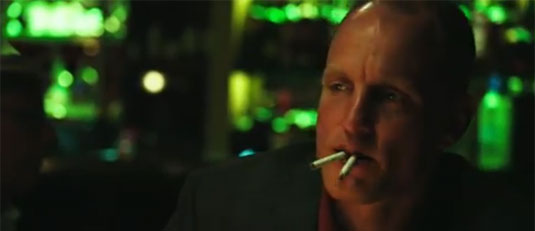 I still think that
Woody Harrelson
is a great actor. And in case you have any doubt about that I recommend you to watch the first official trailer for his upcoming movie titled
Rampart
. As you'll see they already describe it as a terrific film – tense, shocking, complex and mesmerizing. And one thing is for sure – Harrelson is the most corrupt cop you've ever seen on screen! Rampart is a story of LAPD officer Dave Brown who is caught on tape "doing the people's dirty work" which puts him at the center of a vicious scandal.
The days of being above the law are over. Now a poster boy for police corruption, he learns he's been targeted by cop killers looking for revenge. Nothing is what it seems as Dave descends into the L.A. underworld and exacts his own brand of justice. Directed by
Oren Moverman
, who also wrote the script with crime novelist
James Ellroy
, movie also stars
Sigourney Weaver, Robin Wright, Steve Buscemi, Cynthia Nixon, Ben Foster, Anne Heche
and
Ned Beatty
. Don't forget – Rampart opens on November 23rd, 2011.
Download / view trailer:
HD-Quality 1080p [1920 px]
− 158 Мb (QuickTime)