Movie Photos
First Trespass Photo: Nicolas Cage and Nicole Kidman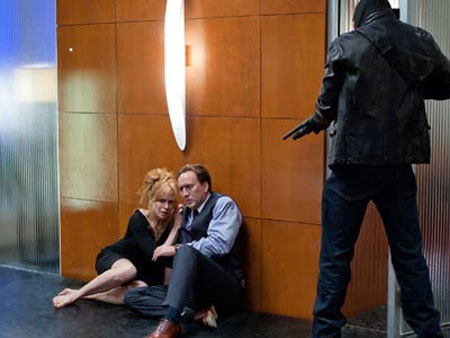 EW has published this first photo of Nicolas Cage and Nicole Kidman in the Joel Schumacher crime thriller, Trespass. The film, scripted by Karl Gajdusek and Eli Richbourg, is about "a married couple (Cage & Kidman) taken hostage by four brutal thieves seeking easy cash, Jordana Spiro will play Petal, the head thief's girlfriend, who becomes a willing accomplice in the crime. Complications ensue amid the unexpected discovery of betrayal and deception." Cage was reportedly keen to play one of the film's central villains, but Joel Schumacher convinced him to become the hero instead.
"I know Nic would have been brilliant as the bad guy, but I wanted him to play the hero. It went back and forth and finally ended up where it should be."
Trespass is currently shooting in Shreveport, LA. and comes to theaters in 2012.