Movie Posters
First WE BOUGHT A ZOO Trailer Starring Matt Damon and Scarlett Johansson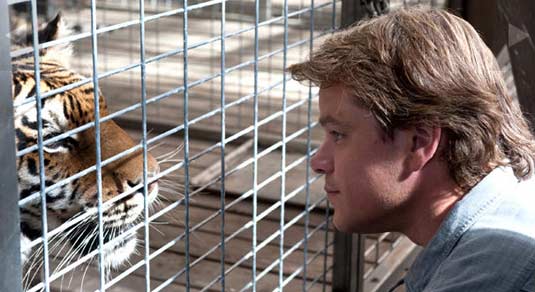 As much as I hate this poster for We Bought A Zoo, I must admit that the first trailer looks good.
One thing is for sure, Cameron Crowe definitely knows the business. We all know the whole thing is based on the memoir by Benjamin Mee, and we're familiar with this true story, right? That's exactly why I thought it would be another boring movie with not so boring cast. But, I guess I was wrong.
The film tells the story of a man who decides to buy and run a zoo with his family following the death of his wife. A single dad (Matt Damon) decides his family needs a fresh start, so he and his two children move to the most unlikely of places: a zoo.
With the help of an eclectic staff, and with many misadventures along the way, the family works to return the dilapidated zoo to its former wonder and glory. And of course, that mission is not impossible.
As for the above mentioned cast, We Bought A Zoo also stars Scarlett Johansson, Patrick Fugit, Elle Fanning, Thomas Haden Church, J.B. Smoove and John Michael Higgins.
The movie opens on December 23, and I definitely recommend you to press the replay button once again, because there are some great animals out there. Not thinking about Damon!
[youtube]http://www.youtube.com/watch?v=lRC2ycoEvII[/youtube]
We Bought A Zoo Trailer