Movie News
Frances McDormand Joins Cast of Matt Damon's Untitled Directorial Debut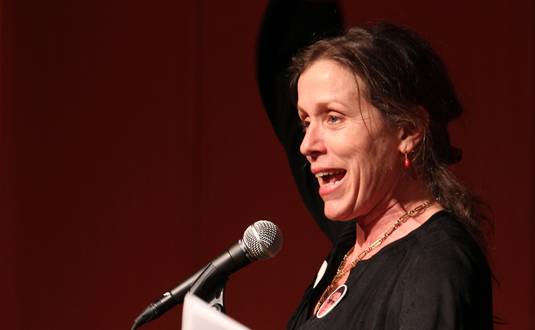 In a recent interview, Matt Damon revealed that he casts Frances McDormand in his untitled directorial debut.
Despite appearing in Tommy Lee Jones' The Good Old Boys together back in 1995, this picture is the first theatrical film Damon and McDormand collaborated on, but they've both worked for the same directors such as the Coens and Cameron Crowe.
The idea behind a project is based on an idea by Dave Eggers and John Krasinski, about 'a salesman who goes to this small town and how the salesman is changed by his experience there.'
Drama is developed by Dave Eggers (Where the Wild Things Are) and co-written with The Office's John Krasinski. Damon and Krasinski will also star in the film along with McDormand.
Damon discussed a real benefit of being a writer/director/actor:
I just love the whole process of filmmaking and talking to actors and because I'm writer also, I get to collaborate with these directors that I work with and I really enjoy the other side of the camera. I'm in front of the camera in the first one I'm directing. It turns out if you write, direct and act for free, you can get pretty good creative terms for your movie.
Production on untitled project is tentatively scheduled to drop next spring. Within the next few weeks, we will hopefully receive the full list.
Damon will next be seen in Cameron Crowe's We Bought a Zoo, which opens on Friday, while McDormand next appears in Wes Anderson's Moonrise Kingdom in May.
Watch the trailer for a Zoo based on a memoir by Benjamin Mee about how the author-father whose life is falling apart purchases a run down zoo and finds as he rebuilds the zoo, he is also slowly rebuilding his own life.
[youtube]http://www.youtube.com/watch?v=clGv3W5I-Zs[/youtube]
We Bought a Zoo – Trailer
Source: The Film Stage