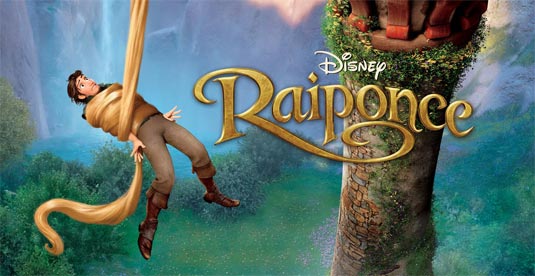 Walt Disney Animation Studios has released a French poster for their upcoming CG-animated film
Tangled
(formerly
Rapunzel
).
Tangled
is an action-packed, swashbuckling, animated musical comedy about the girl behind 70 feet of magical, golden hair. A princess stolen from her parents' castle as a baby, Rapunzel (Moore) is locked in a hidden tower longing for adventure Now an imaginative and determined teenager, she takes off on a hilarious, hair-raising escapade with the help of a dashing bandit (Levi). With the secret of her royal heritage hanging in the balance and her captor in pursuit, Rapunzel and her cohort find adventure, heart, humor, and hair… lots of hair. The film, directed by
Byron Howar
d and
Nathan Greno
, stars
Mandy Moore, Zachary Levi, Donna Murphy,
Ron Perlman,
Jeffrey Tambor, Brad Garrett
and
M.C. Gainey
. You can view a trailer for
Tangled
here
.
Tangled
is scheduled to hit theaters on November 24, 2010.
Tangled Poster