Movie Trailers
Friends With Benefits Trailer Starring Mila Kunis and Justin Timberlake
Sony's Screen Gems has released a red band teaser trailer for their upcoming movie,
Friends with Benefits
. Check it out below.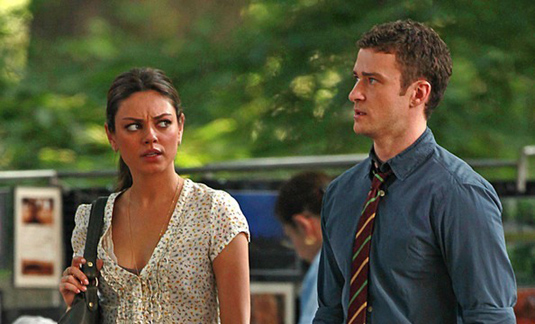 This comedy/romance stars
Justin Timberlake, Mila Kunis, Emma Stone, Patricia Clarkson, Jenna Elfman, Andy Samberg, Bryan Greenberg, Richard Jenkins
and
Woody Harrelson
. Here's the
Friends With Benefits synopsis
: A young female headhunter (Mila Kunis) in New York convinces a potential recruit (Justin Timberlake) to accept a job in the Big Apple. Despite an attraction to each other, both realize they're everything they've been running from in a relationship and decide to see what happens if they leave emotion out of it and keep it strictly physical.
Will Gluck
(Fired Up, Easy A) is directing from the script by
Harley Peyton, Keith Merryman, David A. Newman
and
Gluck
.
Friends With Benefits
opens theaters on July 22nd, 2011 next summer.