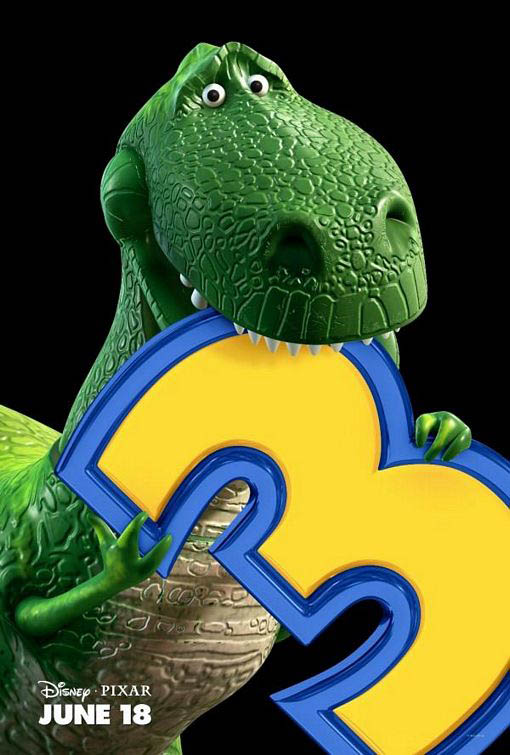 Earlier than we expect, the full-length trailer for "Toy Story 3" which is attached in front of the "Toy Story 1 & 2 Double Feature" in theaters has hit the web. Disney also has debuted today a new teaser poster for the movie featuring Rex.
The third installment of the blockbuster animation series "Toy Story" made as a 3-D movie is directed by Lee Unkrich who previously co-directed "Toy Story 2," "Monsters, Inc.," and "Finding Nemo."
Michael Arndt ("Little Miss Sunshine") wrote the script for the movie.
The movie stars Tom Hanks (Woody), Tim Allen (Buzz Lightyear), John Morris (Andy Davis), Joan Cusack (Jessie the Yodeling Cowgirl), Kelsey Grammer (Stinky Pete the Prospector), Don Rickles (Mr. Potato Head), Estelle Harris (Mrs. Potato Head), Jodi Benson (Barbie), Michael Keaton (Ken), John Ratzenberger (Hamm the Piggy Bank), Whoopi Goldberg and Bonnie Hunt among the others.
In "Toy Story 3," Woody the cowboy and his toy-box friends are dumped in a day-care center after their owner, Andy, leaves for college.
"Toy Story 3" is scheduled to be released on June 18, 2010.