Movie Posters
G.I.JOE RETALIATION Debuts Cool International Poster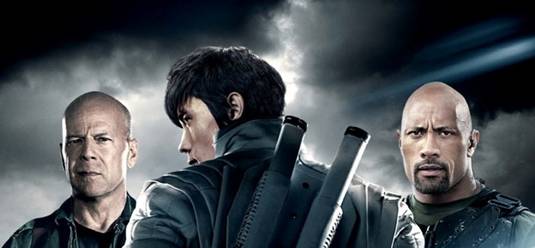 Following the debut of seven (nine) new character posters, new international poster for the sequel to 2009s G.I. Joe: Rise of Cobra is putting the biggest stars out there: Storm Shadow front and center with Joe Colton and Roadblock flanking him. No doubt, Lee Byung Hun will be playing the very popular character Storm Shadow and will have increased screen time compared to the first film. Bruce Willis recently said of Lee Byung Hun's acting,
This guy, Byung-hun Lee, we're going to put him in another movie he's so great. He's just awesome.
Directed by Jon Chu, who replaced Stephen Sommers in the director's chair, G.I. Joe: Retaliation finds second American Revolution that takes back the US government after it falls into the hands of the terrorist organization Cobra. Also starring Channing Tatum, Ray Park, Dwayne Johnson, Elodie Yung, RZA, DJ Cotrona, Adrianne Palicki, Ray Stevenson, Joseph Mazzello, Walton Goggins and DeRay Davis, the summer's most anticipated militant action figure movie, G.I. Joe: Retaliation hits theaters on March 28th, 2013.