Movie News
Gary Oldman and Dominic Monaghan Join Indie Movie MONSTER BUTLER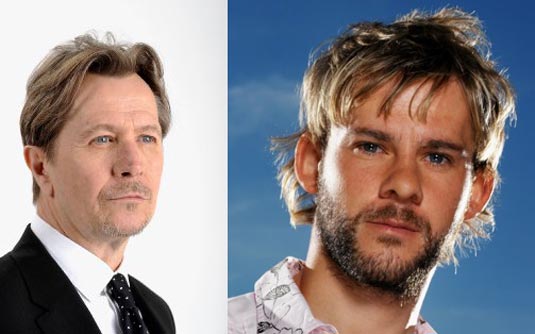 Gary Oldman
and
Dominic Monaghan
are joining the cast of
Monster Butler
, an indie being directed by
Doug Rath
.
Malcolm McDowell
is starring in the true story of Roy Fontaine (aka Archibald Hall), a bisexual jewel thief/con man/serial killer who chronicles his personal descent into darkness leading up to his eventual capture. Also in the cast is
Joanne Whalley
(The Borgias). Oldman will portray Wiggy, a taxidermist with anger issues and business on the side who partners with Fontaine on a number of crimes before things get heavy. Monaghan will play David Wright, a key player in Roy's life and who also serves as his Achilles' heel. Their relationship begins in prison and restarts when they both work on an estate, but a blackmail attempt forces Fontaine's hand and begins his descent into murder and mayhem. Dark House Films is behind the production, which will be distributed by Warner Bros. Production is due to start on June 6th in Scotland, with McDowell, Diane Da Silva and Chris Roe producing with Wilson de Silva as exec producer. Oldman, who next will be seen as Commissioner Gordon in The Dark Knight Rises, just signed on to star in MGM's remake of Robocop. His period crime movie Lawless, which also stars
Shia LaBeouf
and
Tom Hardy
, premiered in Cannes. Monaghan is best known for his co-starring turns in The Lord of the Rings movies and TV's Lost. He also appeared in the ABC's show FlashForward.