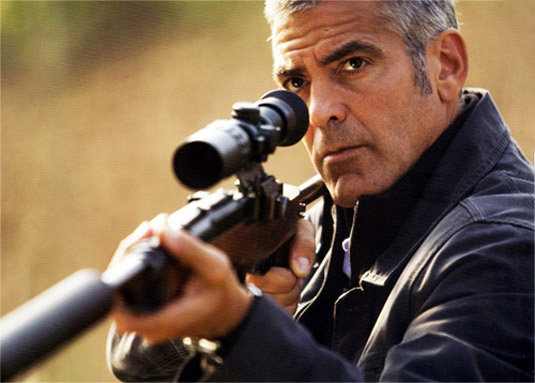 Just when we thought that we won't have a chance to see
George Clooney
in some action movie again, he surprised us all! And that's why we are here today writing about this new
Anton Corbijn
's project titled The American with Clooney playing "an artful assassin with a lengthy track record, constantly on the move and always watching his back". If this sound's interesting to you, then check out the rest of report… We should definitely start with
official synopsis
part. It goes like this: "When an assignment goes wrong and a lover ends up dead, he vows that the next job will be his last. This final obligation takes him to a picturesque town nestled amongst lush Italian hills, its historical piazzas bursting with life. But to Jack, every location is a trap and every person a potential threat. Still, he surprises himself, enjoying confessional conversations over Armagnac with an insightful priest and slipping into an affair with a local beauty. But by letting his guard down, Jack may be tempting fate. A dangerous shadow-dweller shows every sign of closing in, and the mysterious woman who has hired him may not be all that she seems. As an increasingly wary Jack contemplates life, love and death in Italy, the film escalates into a climactic showdown through the cobbled maze of age-old alleyways. This sexy, suspenseful and intricate story blends intrigue and passionate romance within a searing morality tale to finally reveal the heart of this deeply private man."
No problem to imagine Mr. Clooney in this kind of role, right, especially after that political comedies and dramas (like
Up in the Air
and
Good Night and Good Luck
). So this is something that could work out pretty well, especially since those two names are attached in the whole thing – Corbijn and Clooney. The team is already described as: "…the combination of a visionary artist of the stature of Anton Corbijn with the great George Clooney is a movie marriage made in heaven". We should also mention that beside Clooney, this film stars
Thekla Reuten
(if you saw
In Bruges
than you must remember her),
Bruce Altman
(from
Matchstick Men
),
Violante Placido
and
Paolo Bonacelli
. So, as you see, when you put this kind of story, great leading actor, and good director in one movie, then you get new thriller
The American
filmed in Italy and Sweden, and planned to hit the theaters on September 1st 2010. We hope you enjoyed this report, as well as some new photos from it, and that you're ready for big action game!