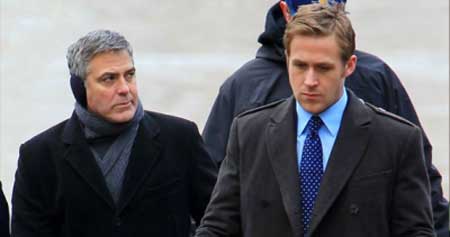 The Ides of March is one of those projects that we already wrote about, and something that definitely deserves our full attention.
Especially now, when we finally learned that George Clooney's upcoming movie will have an honor to open the 2011 Venice Film Festival on August 31. That, you must admit, sounds great!
As we previously reported, Sony has already set a limited release date of October 14 for this movie, and now Deadline reports that The Ides of March will open the Venice Film Festival on August 31.
Let us now remind you that Clooney and his producing partner Grant Heslov adapted the script from the Beau Willimon play Farragut North.
The project is based loosely on the 2004 Democratic primary campaign of Howard Dean, and the play focuses on dirty campaign tricks in Des Moines, Iowa, just weeks before the state's Democratic caucuses.
The film follows a young press spokesman Stephen Myers, played by Ryan Gosling who gets involved in backroom politics and is manipulated by veteran political operatives.
Paul Giamatti is set to play the rival campaign manager, Marisa Tomei is a New York Times reporter while Evan Rachel Wood stars stars as an intern for Myers' campaign.
Movie also stars Clooney as a presidential candidate and Phillip Seymour Hoffman as a campaign manager.