Movie News
Studio Ghibli's FROM UP ON POPPY HILL Voice Cast Gets Chris Noth and Sarah Bolger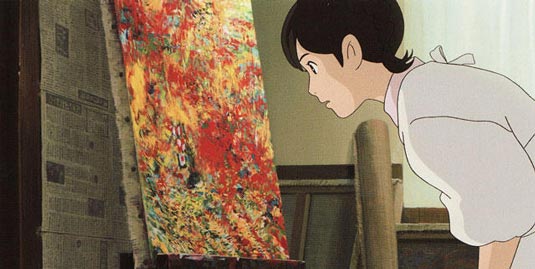 Studio Ghibli revealed on Thursday on its Twitter that actors Chris Noth and Sarah Bolger are working on the English language dub of Goro Miyazaki's From Up On Poppy Hill film. Noth played opposite Sarah Jessica Parker in HBO's Sex and the City television series and films as Mr. Big. He also starred in Dick Wolf's long-running crime drama Law & Order as Detective Mike Logan, and he currently appears in the legal drama The Good Wife.
An Irish actress, Bolger is known as the voice of Eleanor Lamb in 2K Marin's BioShock 2 game, as Mallory Grace in The Spiderwick Chronicles and as Christy in the Oscar-nominated film In America.
The actors join previously announced Gillian Anderson and Oscar-winning director and actor Ron Howard (Happy Days, American Graffiti) on the film's cast.
GKids will release the film in North American theaters next March, after holding a run in Los Angeles County for Academy Award qualification in the "November time frame." Studio also plans to release it on Blu-ray Disc and DVD. Studio Ghibli is producing the English-language version of the film, with Kathleen Kennedy and Frank Marshall as executive producers. Oscar-winning sound designer and director Gary Rydstrom (Titanic, Jurassic Park) is directing the English dub for the film.
A little surprise – we gathered the four posters (there is another, but I couldn't find it in good resolution – as soon as I can, there will be an update) that came out so far – two Japanese and two in French (since it has first been internationally released in Canada, it makes sense).