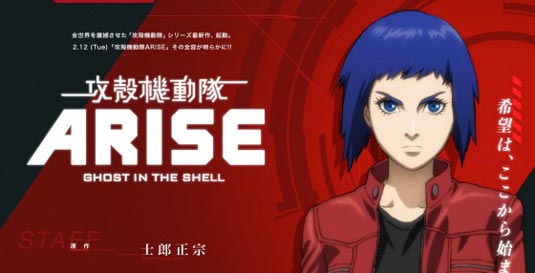 Just two weeks or so ago,
we reported about a comeback of Ghost in the Shell
, one of the anime classics, with the installment being named Arise. There were lots of unknown details (actually it was only known that it is set for release some time this year), but now we have some details and the visual at least – we present you the first trailer for
Ghost in the Shell: Arise
. Take a look at it and enjoy after the jump. I must admit, I thought it will be a featured-length movie, but it seems that I was wrong – GitS staff announced on Tuesday that Ghost in the Shell: Arise is planned as a four-part series. The first part, titled Ghost Pain, will run in Japanese theaters for two weeks starting on Saturday, June 22nd, 2013. There will be advance Blu-ray Disc copies with a bundled scenario book available at participating theaters for 8,000 yen (about US$85). There will also be paid streaming of the project, at least in Japan. The general retail release of the first part's Blu-ray Disc and DVD will be on July 26th, 2013. Series composition and scriptwriter Tow Ubukata confirmed during the broadcast that the show will be a prequel series featuring Motoko when she was younger. The staff also announced the show's cast:
Maaya Sakamoto
as Mokoto Kusanagi
Kenichirou Matsuda
as Batou
Tarusuke Shingaki
as Togusa
Tomoyuki Dan
as Ishikawa
Takurou Nakakuni
as Saito
Youji Ueda
as Paz
Kazuya Nakai
as Borma
Ikkyuu Juku
as Daisuke Aramaki That's all for now, so stay tuned for more details as they come!