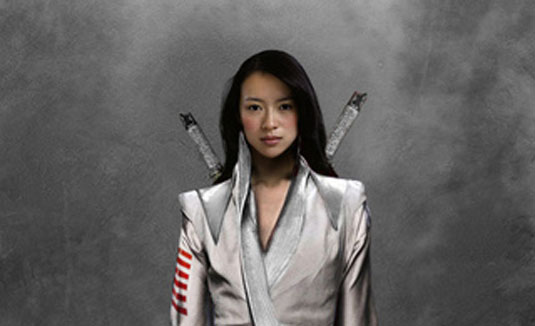 Now that you're informed about a (wee opportunity of it happening, but still) Transformers/G.I. Joe face-off, here's a look at how Snake-Eyes and Jinx could have looked in G.I. Joe: Retaliation. Yes, we dug up some concept art for you! Check out the gallery after the jump.
Thanks to Io9, which has just posted some concept art that was created by the Aaron Sims Company. They include different versions of Snake Eyes and Cobra Commander's costumes. I'm sure all of the fans of 2009's G.I. Joe: The Rise Of Cobra will be quietly upset that none of the images above feature lips for Snake Eyes' mask, nor a see-through plastic mask for Cobra Commander. Sorry, guys, maybe some other time.
In this sequel, the G.I. Joes are not only fighting their mortal enemy, Cobra, they are forced to contend with threats from within the government that jeopardize their very existence. The film stars D.J. Cotrona, Byung-hun Lee, Adrianne Palicki, Ray Park, Jonathan Pryce, RZA, Ray Stevenson, Channing Tatum with Bruce Willis and Dwayne Johnson. Directed by Jon M. Chu and produced by Lorenzo di Bonaventura and Brian Goldner, written by Rhett Reese and Paul Wernick based on Hasbro's G.I. Joe characters, G.I. Joe: Retaliation hit the theaters on March 29th, 2013.