Movie Trailers
GODZILLA Trailer Hits On Tuesday
With the first trailer that will be unveiled on Tuesday, viral marketing has kicked in for an epic rebirth to Toho's iconic Godzilla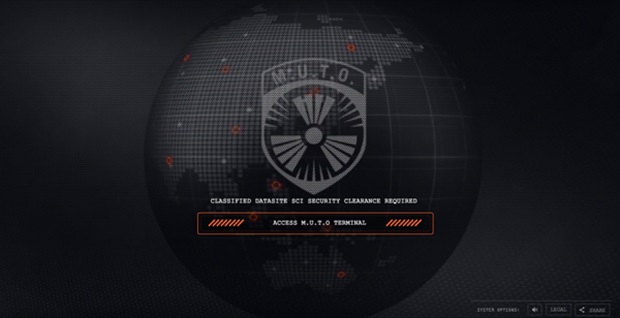 Warner Bros. Pictures and Legendary Pictures have announced that the first official trailer for
Gareth Edwards
' upcoming sci-fi reboot,
Godzilla
, will be unveiled on Tuesday Morning at 10 AM PST/1PM EST. With the first trailer, viral marketing has kicked in for the latest update of the Japanese 'kaiju' classic. They've released brief, distorted military-style teasers along with a
viral site/company called M.U.T.O.
, a bit similar to
Pacific Rim
's 'Pan Pacific Defense Corps'. Fans can input via an old school text console various commands to access information and view encrypted files, both of which are the viral clips seen below. Scripted by
Drew Pearce
,
Max Borenstein
and
Frank Darabont
, the cast is lead by
Aaron Taylor-Johnson
with
Elizabeth Olsen, Bryan Cranston, Juliette Binoche, Sally Hawkins, Ken Watanabe
, and
David Strathairn
(which voice you can hear in the 'M.U.T.O.' videos). In addition to the launch of a viral site, Total Film found the image, which shows M.U.T.O. trucks parked at the site of what looks to be a crater in the Earth.
Godzilla
is set for release on May 16th, 2014.