The winners for the 67th Annual Golden Globe Awards (2010) have been announced at an exciting ceremony held at The Beverly Hilton in Beverly Hills.
The big winners included Mo'Nique, Meryl Streep, Christoph Waltz, James Cameron, Sandra Bullock, Robert Downey Jr., Jeff Bridges, and Jason Reitman.
Let us know what you think of the winners using the comments!
Full results are below…
BEST MOTION PICTURE – DRAMA
Avatar (20th Century Fox)
The Hurt Locker (Summit Entertainment)
Inglourious Basterds (The Weinstein Company)
Precious: Based on the Novel "Push" by Sapphire (Lionsgate)
Up in the Air (Paramount Pictures)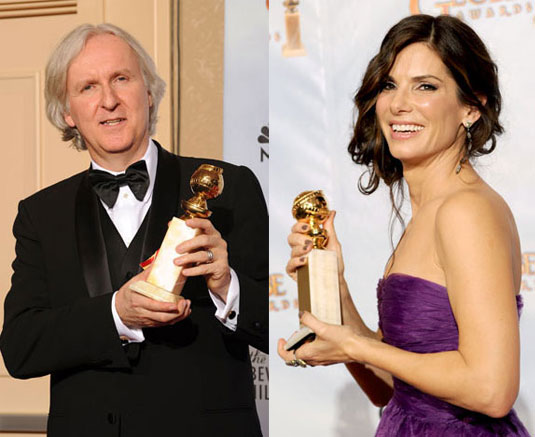 Golden Globe 2010, James Cameron, Sandra Bullock
BEST PERFORMANCE BY AN ACTRESS IN A MOTION PICTURE – DRAMA
Emily Blunt – The Young Victoria
Sandra Bullock – The Blind Side
Helen Mirren – The Last Station
Carey Mulligan – An Education
Gabourey Sidibe – Precious: Based on the Novel "Push" by Sapphire
BEST PERFORMANCE BY AN ACTOR IN A MOTION PICTURE – DRAMA
Jeff Bridges – Crazy Heart

George Clooney – Up in the Air
Colin Firth – A Single Man
Morgan Freeman – Invictus
Tobey Maguire – Brothers
BEST MOTION PICTURE – COMEDY OR MUSICAL
(500) Days of Summer (Fox Searchlight Pictures)
The Hangover (Warner Bros. Pictures)
It's Complicated (Universal Pictures)
Julie & Julia (Columbia Pictures)
Nine (The Weinstein Company)
BEST PERFORMANCE BY AN ACTRESS IN A MOTION PICTURE – COMEDY OR MUSICAL
Sandra Bullock – The Proposal
Marion Cotillard – Nine
Julia Roberts – Duplicity
Meryl Streep – It's Complicated
Meryl Streep – Julie & Julia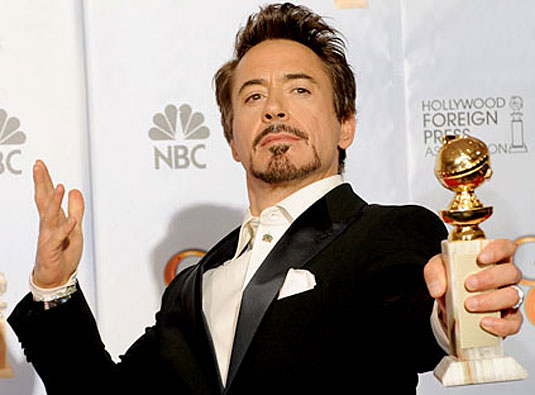 Robert Downey Jr., "I don't have anybody to thank," joked the Sherlock Holmes star when accepting his award. "I'm certainly not going to thank Warner Brothers… They needed me! Avatar was going to take us to the cleaners. Without me, they didn't have a shot!"
BEST PERFORMANCE BY AN ACTOR IN A MOTION PICTURE – COMEDY OR MUSICAL
Matt Damon – The Informant
Daniel Day-Lewis – Nine
Robert Downey Jr. – Sherlock Holmes
Joseph Gordon-Levitt – (500) Days of Summer
Michael Stuhlbarg – A Serious Man
BEST ANIMATED FEATURE FILM
Cloudy with a Chance of Meatballs (Sony Pictures Animation)
Fantastic Mr. Fox (Fox Searchlight Pictures)
Coraline (Focus Features)
The Princess and the Frog (Walt Disney Pictures)
Up (Disney•Pixar)
BEST FOREIGN LANGUAGE FILM
Baaria (Italy)
Broken Embraces (Spain)
The Maid (Chile)
A Prophet (France)
The White Ribbon (Germany)
BEST PERFORMANCE BY AN ACTRESS IN A SUPPORTING ROLE IN A MOTION PICTURE
Penelope Cruz – Nine
Vera Farmiga – Up in the Air
Anna Kendrick – Up in the Air
Mo'Nique – Precious: Based on the Novel "Push" by Sapphire
Julianne Moore – A Single Man
BEST PERFORMANCE BY AN ACTOR IN A SUPPORTING ROLE IN A MOTION PICTURE
Matt Damon – Invictus
Woody Harrelson – The Messenger
Christopher Plummer – The Last Station
Stanley Tucci – The Lovely Bones

Quentin Tarantino team celebrate Christoph Waltz's award of best supporting actor for his role in Inglourious Basterds
BEST DIRECTOR – MOTION PICTURE
Kathryn Bigelow – The Hurt Locker
James Cameron – Avatar

Clint Eastwood – Invictus
Jason Reitman – Up in the Air
Quentin Tarantino – Inglourious Basterds
BEST SCREENPLAY – MOTION PICTURE
Neill Blomkamp and Terri Tatchell – District 9
Mark Boal – The Hurt Locker
Nancy Meyers – It's Complicated
Jason Reitman – Up in the Air
Quentin Tarantino – Inglourious Basterds
BEST ORIGINAL SCORE – MOTION PICTURE
Michael Giacchino – Up

Marvin Hamlisch – The Informant
James Horner – Avatar
Abel Korzeniowski – A Single Man
Karen O and Carter Burwell – Where the Wild Things Are
BEST ORIGINAL SONG – MOTION PICTURE
"Cinema Italiano"; Mysic & Lyrics by Mary Yeston – Nine
"I Want to Come Home"; Music & Lyrics by Paul McCartney – Everybody's Fine
"I Will See You"; Music by James Horner and Simon Franglen, Lyrics by James Horner, Sion Franglen and Kuk Harrell – Avatar
"The Weary Kind (Theme From Crazy Heart)"; Music & Lyrics by Ryan Bingham and T Bone Burnett – Crazy Heart

"Winter"; Music by U2, Lyrics by Bono – Brothers
Golden Globe 2010