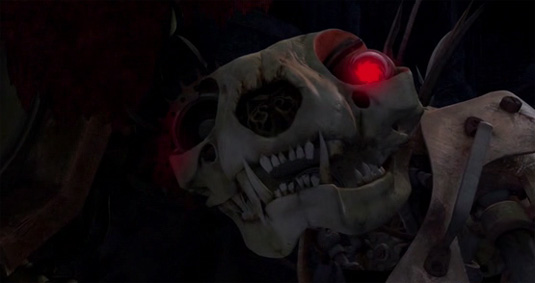 A few weeks ago we posted a
five-minute clip from Shane Acker's "9
." Today we have a brand new clip from this animated sci-fi adventure produced by
Tim Burton
and
Timur Bekmambetov
. All humans are gone, and it is only by chance that 9 discovers a small community of others like him taking refuge from fearsome machines that roam the earth intent on their extinction. Despite being the neophyte of the group, 9 convinces the others that hiding will do them no good. They must take the offensive if they are to survive, and they must discover why the machines want to destroy them in the first place. As they'll soon come to learn, the very future of civilization may depend on them.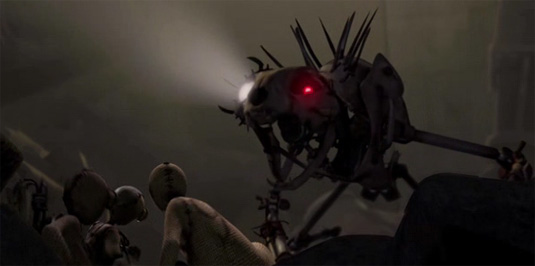 The group of 9 rag dolls includes "1″ (voiced by
Christopher Plummer
), a domineering war veteran, "2″ (
Martin Landau
), an aged inventor, "3 & 4″ – twins – strange dolls, unable to speak, curious but very shy, "5″ (
John C. Reilly
), healer, mentor, great engineer and inventor, "6″ (
Crispin Glover
), a wild and impulsive visionary and artist, "7″ (
Jennifer Connelly
) a group's sole female, a brave and self-sufficient warrior and "9″ (
Elijah Wood
) good-hearted, thoughtful, and sincere. He will easily risk his own life to save others. Directed and written by Shane Acker with co-writer
Pamela Pettler
, "9″ will hit the theaters on 09/9/09.