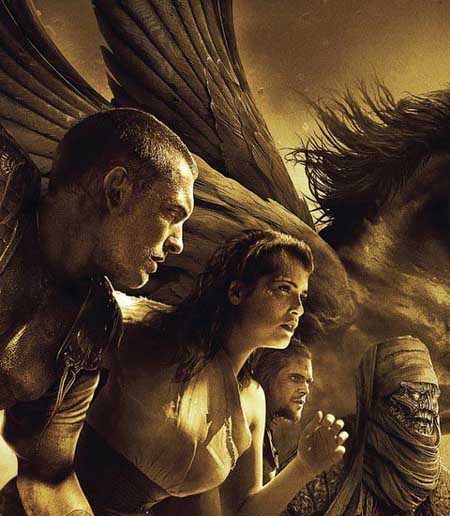 Great new, the third TV Spot for mythology movie about dangerous and neverending struggle for power that can lead to world destruction –
Clash of the Titans
– has been revealed.
Clash of the Titans
is a modern version of the 1981 Greek mythology film directed by Desmond Davis. Born of a god but raised as a man, Perseus (
Sam Worthington
) is helpless to save his family from Hades, vengeful god of the underworld. With nothing left to lose, Perseus volunteers to lead a dangerous mission to defeat Hades before he can seize power from Zeus and unleash hell on earth. Leading a daring band of warriors, Perseus sets off on a perilous journey deep into forbidden worlds. Battling unholy demons and fearsome beasts, he will only survive if he can accept his power as a god, defy his fate and create his own destiny. The remake directed by
Louis Letettier
from a screenplay by Lawrence Kasdan stars
Worthington
as Perseus,
Gemma Arterton
as Perseus' love interest Io,
Ralph Fiennes
as Hades,
Liam Neeson
as  Zeus – Hades' brother and father of Perseus,
Danny Huston
as Poseidon,
Mads Mikkelsen
as Draco,
Alexa Davalos
as Andromeda,
Jason Flemyng, Izabella Miko, Nicholas Hoult
and
Pete Postlethwaite
.
Clash of the Titans
opening in 3D and 2D theaters on April 2nd, 2010.