Movie Photos
Guillermo del Toro Brings PACIFIC RIM's Robots Vs. Monsters To WonderCon 2013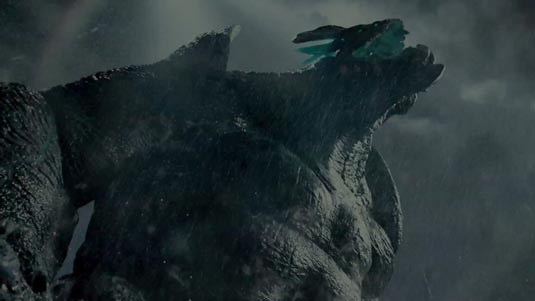 When it comes to comic-cons,
Guillermo del Toro
is always flocked around, as a true legend. As the filmmaker behind comic book adaptations like Hellboy as well as incredible works of fantasy like Pan's Labyrinth, the director is as big a name as you'll find in genre movies, and loved by fans as much. This year at WonderCon, del Toro rewarded that loyalty with some awesome giant robot vs. giant monster action – you know already that I'm talking about
Pacific Rim
. As part of the Warner Bros. panel, del Toro delivered not just a brand new exclusive trailer to the crowds in the arena of the Anaheim Convention Center but some in-depth details as well! Del Toro, you teaser, you! The panel began with the director noting that the movie is now 85% complete, with effects and music still being mixed – and that he had cut a brand new trailer specially for the convention. Hopefully, we'll have it soon, but until then, you can check out the interview with Del Toro – thanks to
Cinema Blend
, and in case you've missed it, you can check out the
previous one
: Del Toro also revealed some welcomed insight about the making of the film, noting how he regularly chose to employ practical sets over green screen, building not only models of the streets of Hong Kong (and destroying them), but also the inside of the Jaegers where the pilots lock in. Those sets were all built on gimbals, so whenever they had to show the pilots being rocked by a hit, the entire set would actually tilt. The filmmaker noted that all of the actors at one point complained about having to be in the suits and locked into the set, with the exception of
Rinko Kikuchi
. He also went into full detail about how the casting of
Charlie Day
went, who is best known for his work in comedies, rather than big action blockbusters. He described the character as well, Dr. Newton Geiszler, as "a mix of Rick Moranis, J.J. Abrams, and the brother of Bradley Cooper: he is a hip geek with a touch of punk rocker." There was a great deal of talk about how he decided not to use motion capture simply because physics of creatures and beings 25 stories tall simply cannot be the same as humans' – they don't move like human beings (if you've ever played D&D, you know how the size differences reflect on speed, heheh). Instead he wanted his animators to figure it out, understanding that the incredible weight of the designs would make them move differently. Despite the film not being 100% done, del Toro says that he has seen the film multiple times now and each time it leaves him with a smug grin. Luckily, the wait for Pacific Rim is almost over. The film will be in theaters on July 12th, 2013, and it will also star
Idris Elba
,
Charlie Hunnam
and
Ron Perlman
. As we get closer to the release date we will surely see even more footage and other goodies from the film, so stay tuned!
UPDATE: It has also been revealed at WonderCon that a graphic novel prequel to Pacific Rim will be available on June 5th. It will chronicle the first time earth is hit by the monstrous Kaiju, and the race to build the Jaegers as mankind's only line of defense. So, if you're visiting WonderCon, don't forget to rush to their booth for a sneak-peek at the graphic novel and free trading cards, which you can check out below.