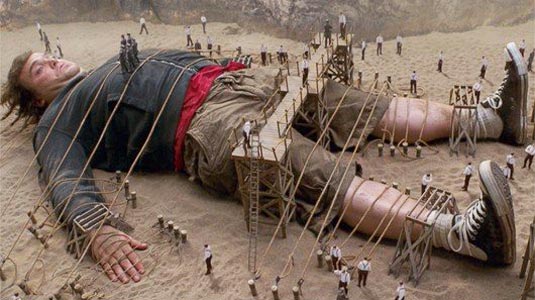 Electric Dynamite and 20th Century Fox have released an official movie trailer for the upcoming live-action family adventure film
Gulliver's Travels
, which is directed by
Rob Letterman
and based on the 18th-century novel of the same name by
Jonathan Swift
.
Gulliver's Travels
plot synopsis: In a contemporary re–imagining of the classic tale, Jack Black stars as Gulliver, a big–talking mailroom clerk who, after he's mistakenly assigned a travel piece on the Bermuda Triangle, suddenly finds himself a giant among men when he washes ashore on the hidden island of Lilliput, home to a population of very tiny people. At first enslaved by the diminutive and industrious Liliputians, and later declared their hero, Gulliver comes to learn that it's how big you are on the inside that counts. The film stars
Emily Blunt
(Charlie Wilson's War, The Wolfman),
Jason Segel
(Despicable Me, Forgetting Sarah Marshall, Knocked Up) and
Jack Black
(Kung Fu Panda: The Kaboom of Doom, Year One, Tropic Thunder),
Amanda Peet, Billy Connolly, James Gorden, Catherine Tate
and
Chris O'Dowd
.
Gulliver's Travels
hits theaters on December 22, 2010.
Download Gulliver's Travels
HD-Quality 1080p [1920 px]
− 143 Мb (QuickTime)
HD-Quality 720p [1280 px]
− 95 Мb (QuickTime)
HD-Quality 480p [852 px]
− 53 Мb (QuickTime)