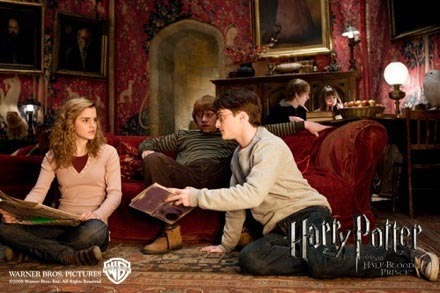 Warner Bros. Pictures today announced that it has moved back the release of "Harry Potter and the Half-Blood Prince" from Thanksgiving this year until July 17th next summer! The announcement was made by Alan Horn, President and Chief Operating Officer, Warner Bros. In making the announcement, Mr. Horn stated,
"Our reasons for shifting 'Half-Blood Prince' to summer are twofold: we know the summer season is an ideal window for a family tent pole release, as proven by the success of our last Harry Potter film, which is the second-highest grossing film in the franchise, behind only the first installment. Additionally, like every other studio, we are still feeling the repercussions of the writers' strike, which impacted the readiness of scripts for other films-changing the competitive landscape for 2009 and offering new windows of opportunity that we wanted to take advantage of. We agreed the best strategy was to move 'Half-Blood Prince' to July, where it perfectly fills the gap for a major tent pole release for mid-summer."
Commenting on the release date change for "Harry Potter and the Half-Blood Prince," David Heyman, the producer of all the Harry Potter films, offered,
"When Jeff Robinov explained the rationale behind moving the release date of 'Harry Potter and the Half-Blood Prince' to July 2009, it was immediately apparent that this offered us the potential to reach the widest possible audience. I am extremely proud of this latest film and of the work of David Yates and our incomparable cast; I believe we have developed and pushed the series further still. We are all looking forward to sharing it with Harry Potter fans around the world, even if we have to wait just a bit longer."
According to the studio, the post-production work for the film, directed by David Yates, is being completed on time and also that the studio still plans to split the last book, Harry Potter and the Deathly Hallows, into two films.