Movie News
Holly Hunter Set For Still I Rise, in Talks for Romeo and Juliet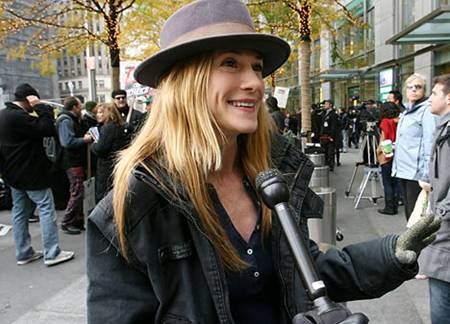 Holly Hunter, best known for playing the role of Ada McGrath (The Piano) for which she won the Academy Award for Best Actress, seems to be moving back to the big screen after a gap of six years, signing on to one project and teaming up another.
Hunter has joined Viola Davis and Maggie Gyllenhaal in director Daniel Barnz's new movie Still I Rise. She'll play the head of the teacher's union in a dramatic story about an instructor and a mother who join forces to improve the quality of education in an inner-city Pittsburgh school. Inspired by current events, the film takes aim at the educational crisis in America's public schools.
Barnz recently rewrote the Brin Hill's screenplay. 20th Century Fox owns the distribution rights to Still I Rise and currently plans to release in 2012.
And that's not all. As we mentioned she's in negotiations to join True Grit's Hailee Steinfeld in Romeo and Juliet. With the new Shakespeare adaptation penned by Julian Fellowes, Italian director Carlo Carlei will helm another take on the classic tragic romance with Steinfeld playing Juliet. Carlei isn't recognized outside the country, but Fellowes has written great film like Gosford Park and he just wrote The Tourist as well. Fellowes will also produce Romeo and Juliet along Gabriele Muccino, Ileen Maisel and Mark Ordesky.
Though it's still up in the air what role Hunter will take, we can speculate she'll play the matriarch of either the Capulet or the Montague family. Curiously enough both actresses have worked with the Coen Brothers (Hunter in Raising Arizona e.g.).
No production date has been set.
It is to be mentioned that Holly Hunter was spectacular on TNT's Saving Grace and has also won two Emmy Awards with seven nominations and has awarded a Golden Globe with another six nominations.
Watch her previous feature appearance in the trailer for 2005's The Big White.
[youtube]http://www.youtube.com/watch?v=jzU0CHI37Yg[/youtube]
The Big White trailer