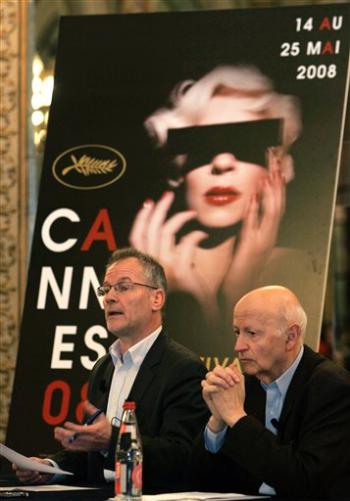 Clint Eastwood
's film "
The Changeling
", starring
Angelina Jolie
as a woman searching for her missing son in 1920s Los Angeles and "
Synechdoche, New York
," screenwriter
Charlie Kaufman
's directorial debut.joins a competition list.
Steven Soderbergh
, who took the top Cannes award in 1989 for "
Sex, Lies and Videotape
", won a race against time to complete his four-hour epic "
Che
", on the life of the revolutionary Ernesto "Che" Guevara in time for the festival. Steven Soderbergh's inclusion looks like a last-minute decision. He competes with two pic "Che" bio – "
The Argentine
" and "
Guerrilla
" As predicted,
Steven Spielberg
's "
Indiana Jones and the Kingdom of the Crystal Skull
" world preems down on the Croisette, possibly on Sunday May 18. It promises this fest's must-attend, highest-glam event.
Thierry Fremaux
, the festival's head said the presence of Steven Spielberg and the stars of "Indiana Jones and the Kingdom of the Crystal Skull", which will premiere outside the main competition, would ensure "a magnificent red carpet".
Harrison Ford, Cate Blanchett
and
George Lucas
are expected to join Spielberg on the steps outside the Palais des Festivals, guaranteeing the kinds of flashing cameras that add essential glamour to the festival's arthouse fare. Out-of-competition,
DreamWorks Animation
's "
Kung Fu Panda
," an adventure, comedic chop-soc tooner, promises another Hollywood red-carpet cavalcade. Also non-competing, as is
Woody Allen
's custom, is the Spain-shot "
Vicky Cristina Barcelona
." After its debut at the Sundance Film Festival, the Hollywood satire "
What Just Happened?
" will get a second chance at Cannes – closing night, but we are not sure yet because organizers said they would announce the movies that open and close the festival in a few days.
Robert De Niro
stars an embattled Hollywood producer whose life falls apart during one turbulent week. In a life-imitating-art turn, the film's climactic scene takes place at the Cannes Film Festival, with the producer's fictional movie-within-a-movie opening the event. "What Just Happened?" also stars
Catherine Keener
as a tough-as-nails studio chief and features a number of stars, including
Sean Penn
and
Bruce Willis
, playing themselves in self-parodying roles.
Barry Levinson
directs from an adaptation of "Into the Wild" producer
Art Linson
's memoir. The film generated strong buzz going into January's Sundance Film Festival, and was expected to sell for a significant seven-figure sum. But the movie received a mixed critical.