Movie News
Hugo Weaving as Red Skull, Howard Stark Will Appear In Captain America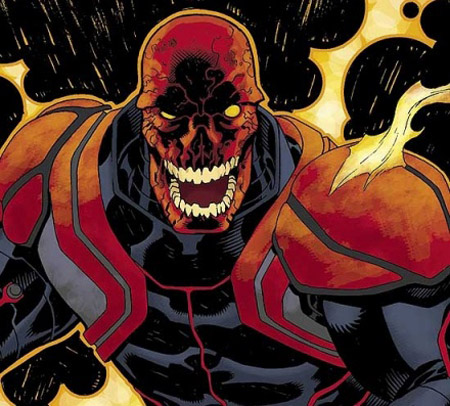 We promised we'll be back with new updates of an upcoming
Captain America
movie. So, today we are here to inform you Marvel has announced that they have cast
Hugo Weaving
as Johann Schmidt, a.k.a. the Red Skull. But wait, that's not the end! Howard Stark will also appear in the upcoming Captain America movie after we see him in
Iron Man 2
! We already wrote about this one, so we're not going to repeat
the plot part
again. At this moment, we know that July 22nd 2011 is set for a release date, and we know that quite interesting cast is involved with 
The First Avenger: Captain America
project. So, let's remind!
Chris Evans
will play Steve Rogers (a.k.a Captain America), British actress
Hayley Atwell
is Peggy Carter and
Sebastian Stan
will play James Barnes (a.k.a Bucky). Now, we should add brilliant Hugo Weaving as Red Skull. When it comes to this actor, nothing surprises us, since he already has experience playing the big-screen baddie in action movies. We all remember he voiced Megatron in
Transformers
and
Transformers: Revenge of the Fall
and, of course, starred as Agent Smith in the
Matrix
films. On the other hand, in a recent interview with Iron Man 2 director
Jon Favreau
, MTV asked Favreau whether Tony Stark's father, Howard Stark, would also be in Captain America: The First Avenger. As
John Slattery
prepares to step into theaters as Howard Stark, the father of
Robert Downey Jr
. (as Tony Stark), Favreau told MTV that it all makes "Iron Man" sense, "Yeah, because he was around then, 'Captain America' is World War II," Jon explained. "It wouldn't be that same actor, probably, because he would be much younger." In Iron Man 2, Howard Stark is played by John Slattery, who appears in the film via a video reel that is part of the Stark Expo. Favreau explained that the history of the Expo will come up in other Marvel films saying: "The Expo dates back to the 1930s, but the last one was in 1974 when Tony's father was still alive and Tony was just a kid. It does figure in to the other films because in the Captain America movie you're going to see the early one, which I think is a lot of fun. They're going to have a reference to Tony's father, Howard Stark, played by John Slattery, and his earlier Expo. But I don't want to say more than that." So, you see, every day we hear something new about this one. Be sure we'll be right here with some new details about Captain, and stay tuned!