Movie News
Hunter Parrish is Contender for Male Lead in The Hunger Games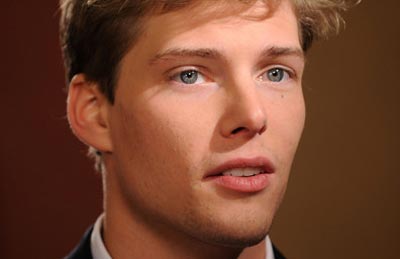 What's happening with The Hunger Games cast? We have no idea, but we do have a new update!
And, just in case you're Hunter Parrish fan, you'll be happy to hear he's on the shortlist of actors in contention for the male lead of Peeta! Yeah, yeah, when you have that kind of name, and that kind of look, then it sounds like you're the perfect screen-partner for previously reported Jennifer Lawrence, who will, obviously, star as female lead!
So, Parrish actually confirmed this: "I've met the producers. I'd be grateful to get the opportunity. Like, really grateful. It would be amazing. I read the books all last year, and I guess they're starting filming soon."
Like we said last time, we're all occupied with the upcoming Gary Ross' film adaptation of Suzanne Collins' book of the same name, and you probably remember that a lot of names had been rumored to take a lead – even 30 actresses have met or read for the role!
But if you ask Parrish, he would like to star with actress that's actually close to his age. Or, as he explained:
"If it's Jennifer [Lawrence], man, sign me up! I think if it ended up being Hailee Steinfeld or Saoirse [Ronan] or who's the other one? Abigail Breslin. Then it would be weird. It would be really weird."
UPDATE: It's been confirmed – Jennifer Lawrence will play Katniss Everdeen!
Let's repeat once again, The Hunger Games description goes like this:
"In the ruins of a place once known as North America lies the nation of Panem, a shining Capitol surrounded by twelve outlying districts. The Capitol is harsh and cruel and keeps the districts in line by forcing them all to send one boy and one girl between the ages of twelve and eighteen to participate in the annual Hunger Games, a fight to the death on live TV.
Sixteen year-old Katniss Everdeen regards it as a death sentence when she steps forward to take her sister's place in the Games. But Katniss has been close to dead before and survival, for her, is second nature. Without really meaning to, she becomes a contender. But if she is to win, she will have to start making choices that weigh survival against humanity and life against love."
The Hunger Games is set to hit theaters on March 23rd 2012. Stay tuned for more updates!