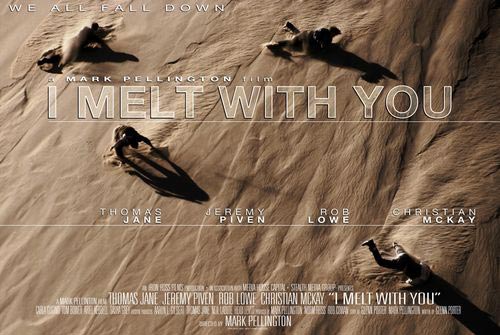 This project is definitely familiar to you, so I'm sure you'll be happy to see a new trailer for Mark Pellington's upcoming dark drama titled I Melt With You.
I must admit that it looks kind of creepy, especially those scenes with Rob Lowe (although I have nothing against that guy), so if he ever asks me to spend some time with him – my answer will probably be – no, Rob, I'm busy right now.
So, I Melt With You is a project based on a Glenn Porter script that is (again) based on a story by Porter and Pellington which follows "the interconnecting lives of four men and focuses on the pain of the modern male psyche, deals with mortality, aging and friendship."
Or, if you prefer more details: "Four friends gather every year to celebrate their friendship. This year they are unexpectedly forced to confront a forgotten promise they made 25 years earlier.
As they examine choices they've made, they realize that what they said they would do with their lives and what they have done are entirely different."
Movie stars Thomas Jane, Rob Lowe and Jeremy Piven and Magnolia acquired the film at Sundance and the movie is set to release it sometime this year. As usual, we'll let you know.
[youtube]http://www.youtube.com/watch?v=pL1bwtqNcPU[/youtube]
I Melt With You Trailer