Movie News
Imogen Poots as Lead Female in Fright Night Remake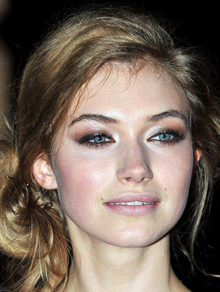 Imogen Poots
, lovely British actress that we all remember from titles like
28 days later
and
Solitary Man
, will play the lead female role in DreamWorks' remake of the 1985
Fright Night
that we already wrote about. Yes, that one with great cast that includes
Colin Farrell, Toni Collette
and
Anton Yelchin
. And yes, she will play Yelchin's girlfriend, the role that Amanda Bearse played in the original. The story is about. "…a teenage horror film addict is shocked to discover that his new next-door neighbor is a vampire in this delightful mix of horror and comedy. The problems only grow for young Charley Brewster when he expresses his thoughts about fanged new neighbor Jerry Dandridge. His girlfriend, Amy thinks Charley is avoiding their relationship issues, his single mom thinks Dandridge could be a potential boyfriend, and his buddy "Evil" just thinks Charley's losing it. Worst of all, Dandridge and his nasty assistant, Billy Cole are on to Charley's wild notions – and have plans to pay him a late-night visit to silence him. With no one to help him, Charley turns to the one man he knows has faced the wrath of the undead and lived, the fearless vampire killer Peter Vincent. A washed-up actor who has just been fired from his job as the host of a late-night horror show, Vincent is not about to believe in the rantings of an impressionable teen. However, lured by Amy's cash offer, he agrees to help her convince Charley that Dandridge isn't a vampire. There is just one problem: Dandridge is a vampire and when Amy falls under his evil spell, its up Charley and Peter to drive a stake through their potential romance."
Craig Gillespie
is directing the remake of the cult 1985 movie in which Chris Sarandon originally starred as Jerry.
David Tennant
(from "Doctor Who") and
Christopher Mintz-Plasse
(from "Kick Ass") are part of the Fright Night cast as well. Tennant will play Peter Vincent, a character that was originally played by Roddy McDowall as the host of a late-night horror show, while Mintz-Plasse will play Evil Ed, Yelchin's friend who is upset that Charlie has left his geek past behind and thus joins up with the vampires. The
Fright Night
remake is expected to begin shooting in July. Stay tuned!
Imogen Poots, 28 Weeks Later