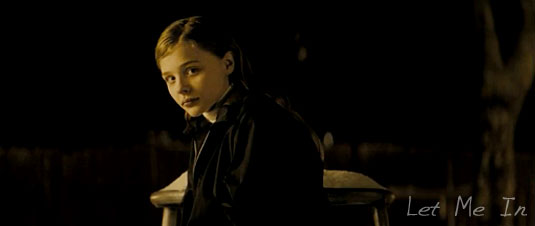 Overture Films has released a international trailer for
Matt Reeves
directed Swedish remake of Let the Right One In called
Let Me In
.
Let Me In
tells a terrifying tale about an alienated 12-year old boy named Owen (
Kodi Smit-McPhee
) who is viciously bullied by his classmates and neglected by his divorcing parents. Achingly lonely, Owen spends his days plotting revenge on his middle school tormentors and his evenings spying on the other inhabitants of his apartment complex. His only friend is his new neighbor Abby (
Chloe Moretz
), an eerily self-possessed young girl who lives next door with her silent father (
Richard Jenkins
). A frail, troubled child about Owen's age, Abby emerges from her heavily curtained apartment only at night and always barefoot, seemingly immune to the bitter winter elements. Recognizing a fellow outcast, Owen opens up to her and before long, the two have formed a unique bond.
Let Me In
will open in theaters on October 1st, 2010.