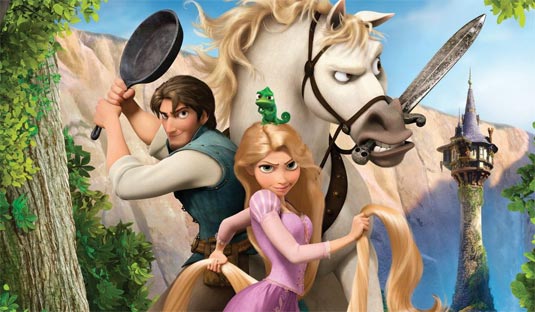 A new international poster for the upcoming animated movie
Tangled
has been revealed. When the kingdom's most wanted — and most charming — bandit Flynn Rider hides out in a mysterious tower, he's taken hostage by Rapunzel, a beautiful and feisty tower-bound teen with 70 feet of magical, golden hair. Flynn's curious captor, who's looking for her ticket out of the tower where she's been locked away for years, strikes a deal with the handsome thief and the unlikely duo sets off on an action-packed escapade, complete with a super-cop horse, an over-protective chameleon and a gruff gang of pub thugs.
Tangled
, directed by
Byron Howard
(Let It Begin, Bolt) and
Nathan Greno
(Super Rhino, Let It Begin), features the voices of
Mandy Moore, Zachary Levi,
Ron Perlman, Brad Garrett, M.C. Gainey
and
Donna Murphy
.
Tangled
is due to hit theaters on November 24, 2010.
Tangled Poster
In case you haven't already watched it, check out new Tangled trailer.