Interview
Interview: Jeremy Irons for "Appaloosa"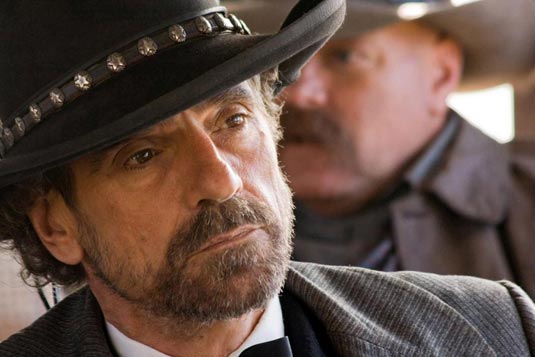 Oscar winning Brit Jeremy Irons is very picky when it comes to leaving one of his many British homes [and Irish castle] to take on a Hollywood role, but the idea of playing the antagonistic cattle baron in the Ed Harris-directed western, "Appaloosa", was clearly roo good to pass up.
In a Toronto hotel room, in between puffs of a cigarette, Irons chatted exclusively to PAUL FISCHER.
Question: Was it irresistible to do something that kind of reminded you of why you might have become an actor in the first place?
Irons: Yeah. I've always ridden horses and like most people, I was sort of brought up on Westerns, and Westerns were movies., but I never thought I'd ever be in one. They don't make many now and although Clint Eastwood had asked me to do Unforgiven–
Question: Which, the Richard Harris part?
Irons: Yeah. And I said, "No." I think – I'd read the script, and I thought, "I think I'm too young for this. I don't think I'm right for this. You should ask Richard Harris," which he did. Of course, Richard made a great success of it and I think was a lot better than I would have been. So, I had another opportunity to do one. But, you know, when Ed asked me to do this, I'd just finished doing a play in London, and was feeling like doing a movie. I thought it would be a lot of fun. I could see that he had this dream to make this picture and Viggo was on board, and Renee was on board. And I thought, "Oh, we'll have fun. It's a nice bunch of actors, nice script." And it was a real pleasure to be able to say yes to it.
Read more: DarkHorizons