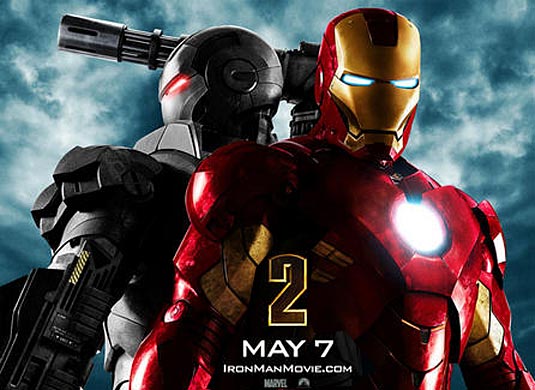 Paramount and Marvel officially released the first movie poster for Jon Favreau's "Iron Man 2" on Yahoo. The poster gives you a first official look at War Machine.
War Machine (James Rupert Rhodes) Biography:
James Rupert Rhodes is an African American who was born in the South Philadelphia section of Philadelphia, Pennsylvania. A lieutenant in the United States Marine Corps, he served tours of duty in Southeast Asia as a combat pilot. During one mission, Rhodes' helicopter is shot down by Viet Cong rocket fire and is stranded in the jungle behind enemy lines. While trying to get the aircraft airborne again, he encounters Iron Man for the first time. Although Rhodes believed him to be an enemy at first, Iron Man proved that he was on the same side as Rhodes when he helped defeat the Viet Cong soldiers that ambushed them. Iron Man, who has just escaped from Wong Chu's prison camp in his prototype suit of powered armor, told Rhodes that he needed the batteries from Rhodes' helicopter to sustain his life support and that he helped billionaire industrialist Tony Stark (who is secretly Iron Man) escape the prison camp. Making their way to the American defense perimeter on foot, Rhodes and Iron Man discovered a camouflaged enemy rocket base that was the origin of the rocket fire that grounded Rhodes in the first place.
After stealing a Viet Cong helicopter, Rhodes and Iron Man destroyed the enemy base and flew the helicopter back to the American lines.
At the base hospital in Saigon, Stark arrives in person to thank Rhodes for helping Iron Man to safety and to offer Rhodes a job as his personal pilot. After the Vietnam War was over and after taking several career paths, Rhodes finally took Stark's offer and became Stark's personal pilot, chief aviation engineer for Stark International, and one of Stark's closest friends and confidants.
The film takes place only "six months after Stark revealed his identity as Iron Man" at the end of the first movie. Stars Robert Downey Jr., Gwyneth Paltrow, Don Cheadle, Jon Favreau, Sam Rockwell, Samuel L. Jackson, Mickey Rourke, Scarlett Johansson, Garry Shandling, Kate Mara, Clark Gregg and Leslie Bibb.
"Iron Man" 2 is set to hit theaters on May 7, 2010.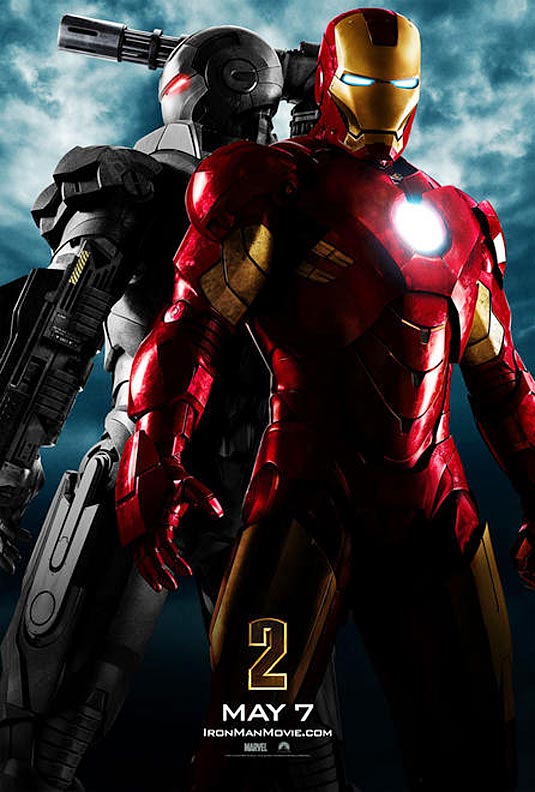 Iron Man 2 Poster, Iron Man and War Machine