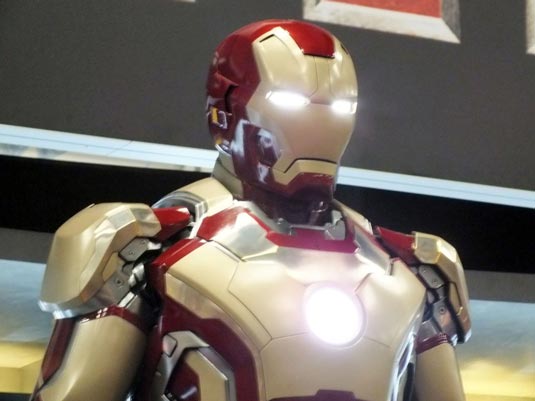 At Comic-Con back in 2009, Marvel Studios have dominated the expo floor by bringing the hall of armor for Iron Man 2 with all three of Iron Man's armor suits from the first film.
After following up in 2010 and 2011 with Thor's Asgardian throne room and the bridge of the S.H.I.E.L.D. Helicarrier from The Avengers, respectively, Marvel is back with another film set recreation.

This time, it is an expanded hall of armor for Iron Man 3, containing seven suits from the franchise thus far, along with the new suit which will be featured in Iron Man 3.
Unlike the standard Iron Man armor designs that used red as its primary color, this one inverts the color scheme so the dominant color is golden. Not my color of choice, but, well, what was the saying – de gustibus non est disputandum.
The golden design is seemingly inspired by the Extremis concepts from the comics, on which this film's story is based on, and the gold is quite a contrast from the usual red-focused designs. Now, the question is will Tony Stark have other suits in addition to this one, or will the others be used for something else?
Directed by Shane Black based off of his and Drew Pearce's screenplay, Iron Man 3 hits the theaters on May 3rd, 2013 and stars Robert Downey Jr., Ben Kingsley, Don Cheadle, Gwyneth Paltrow, Guy Pearce, Jon Favreau, Rebecca Hall, Cobie Smulders, William Sadler, James Badge Dale and the voice of Paul Bettany.
Oh, right. Here are the pics, enjoy: