Movie News
IRON MAN 3: Gwyneth Paltrow Suits Up; Plus We Get a Sneak-Peek at The Mandarin's Terrorist Plans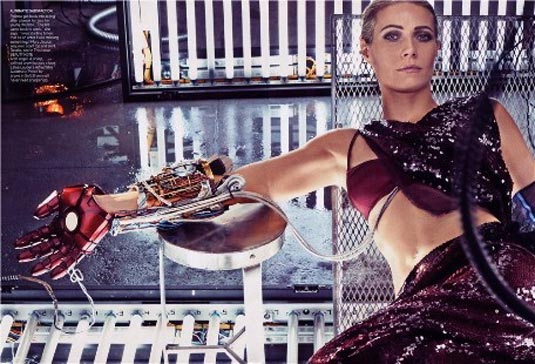 Iron Man 3 releases on May 3rd, 2013, and when it does it'll not only be the first non-Jon Favreau directed Iron Man film but it'll also be the first of the post-Avengers Marvel movie AND the first one in Marvel's so called 'Phase 2'. No pressure here, Shane Black, no pressure at all. But, if you caught the teaser trailer that released a few weeks back, you'll know what we've seen looks not only promising, but freakin' amazing! Here's another reason to be excited: recently during a talk in São Paulo, Brazil, Marvel Entertainment International President Simon Philips may have let it slip that Pepper Potts, played by Gwyneth Paltrow, would indeed be getting her own suit of armor! And no, the above picture is as old as Iron Man 2, about which there was also talk of having Pepper appearing as Rescue (and as you've seen, still didn't happen, so don't hold your breath about this one, either). ComicBookMovie picked up on the story originally reported by Brazilian entertainment site, Omelete. Unfortunately, that story is gone having been replaced with this statement, "information removed at the request of Disney." Hmm, does that make it even more likely? Possibly. Here's what they were able to pick up before the removal,
A transcription of the spoilerific report, via Protocida, reveals that Tony Stark (Robert Downey Jr.) will eventually have an underground Hall of Armors with at least 16 new armors, including a few classic designs from the comics. Simon Philips also revealed, or confirmed, that Virginia Pepper Potts (Gwyneth Paltrow) will indeed get in on the action, this time by donning her own suit of armor.
At this year's Comic-Con Favreau and Paltrow had mentioned getting Potts into some armor was something they always wanted to do, and even Marvel Studios President Kevin Feige said, "Everyone at this table thinks it would be the coolest thing in the world to see Pepper get in the suit at some point." Have they made it happen? Will we see Pepper don the armor as Rescue and appear in Iron Man 3? I don't know about you guys, but it's something I really, really want to see. Even for a brief moment. You hear that, Shane Black?! And speaking of things we'll see, as filming for Iron Man 3 wrapped in North Carolina there was a report that included a tiny bit of information about The Mandarin (Ben Kingsley) and his Ten Rings terrorist group's plot. This could contain spoilers – if there can be greater spoiler than Paltrow possibly suiting up. … … … Turns out a local furniture restoration company called Master Craftsmen Services was asked to furnish the Stark mansion (bed, sofas, chaise lounges, ottomans and chairs) as well as create some bomb fodder for a terrorist attack. Specifically,
The company, which has been restoring furniture for 15 years, also upholstered about 22 theater seats that will be digitally replicated to create an entire theater on-screen. The theater will then appear to have been bombed during a terrorist attack in Afghanistan.
Oh, for f***'s sake, did it have to be Middle East (again)? Nothing personal, I'm just getting tired of all the Middle East terrorists, but hey, at least Russians can catch a break now. Also, I can see already someone getting all upset and voicing out about the film being insensitive, regarding the unfortunate incident involving movie theater. Guess we'll have to wait and see. But, what part could this play in The Mandarian's overall plans? Why target a movie theatre? What do you think?