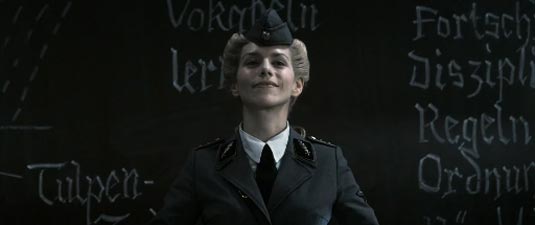 I must admit that this project definitely sounds great. Not just because I love conspiracy theories, but because the trailer for Timo Vuorensola's upcoming Iron Sky looks great as well!
And one thing is for sure – you just can not trust those Nazis these days. Even when they're on the Moon!
Yes, of course it's a dark science fiction comedy!
It takes place in the year 2018, when the Nazis, who fled the Earth to the dark side of the Moon in 1945, return to claim the Earth. As you already know, the film is Finnish-German-Australian co-production with a budget of 7.5 million euros.
Iron Sky screenplay is written by the acclaimed sci-fi writer Johanna Sinisalo (Nebula Award nominee 2009, Finlandia 2000) and Michael Kalesniko (Private Parts).
The cast includes Julia Dietze (1½ Ritter), Götz Otto (Schindler's List, Tomorrow Never Dies, Downfall), Christopher Kirby (The Matrix Reloaded & Revolutions, Daybreakers, Space: Above and Beyond), Udo Kier (Dogville, Dancer in the Dark), Peta Sergeant (Satisfaction), Stephanie Paul (Separation City, Film School Confidential) and Tilo Prückner (The Neverending Story, Die Fälscher).
Project is produced by Tero Kaukomaa, Samuli Torssonen, Oliver Damian, Cathy Overett & Mark Overett with San Fu Maltha as the executive producer.
And, for the end, let us also report that an official release date for the Iron Sky is April 2012!
Everething we wrote about Iron Sky movie, here at FilmoFilia, you can find HERE
Anyone excited about this? Let us know, and stay tuned!
[youtube]http://www.youtube.com/watch?v=kNDaOFQ6g2I&feature[/youtube]