Movie News
Jackie Chan Plans Chinese Earthquake Film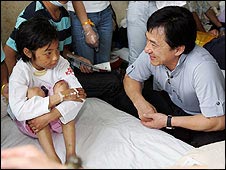 Martial arts action hero
Jackie Chan
is planning to make a film about the Chinese earthquake to raise money for its survivors.He said he was in meetings with directors and scriptwriters to get the venture into production.
"I want to make the movie about the earthquake because there's so many touching stories,"
he said. He said he had already donated $1.4m (£700,000) to help the victims of the quake, which killed around 60,000 people on May 12th.
"I believe there are so many touching stories so we're going to have a big meeting to see what happens,"
Chan said of his discussions with film-makers.
"I want through the movie to show the whole world, I really want to salute the whole army of China, really."
The Rush Hour star added that around 100 Asian artists would take part in charity events in Hong Kong and Chengdu, Sichuan's capital, next month.