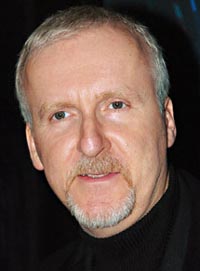 Maybe the right title this time could be –
James Cameron
shooting again? Because he definitely is (once again)! In an interview with Spiegel Online,
Avatar
director said that he feels the only reason sequels exist is because Hollywood is out of ideas and is forced to re-use the same characters and storylines. "We have a story crisis, now they want to make the '
Battleship
' game into a film. This is pure desperation. Everyone in Hollywood knows how important it is that a film is a brand before it hit theaters. If a brand has been around, '
Harry Potter
' for example, or '
Spider-Man
,' you are light years ahead. And there lies the problem. Because unfortunately these franchises are becoming more ridiculous. 'Battleship.' This degrades the cinema." Cameron also added that the only reason Warner Bros split the last "Harry Potter" book into two films is because the studio knew it would be able to make more money. He called the move "excessive." Let us also remind you Cameron was recently peeved with
Piranha 3D
describing it as "the bottom of the barrel" but now it seems it will have to make room for the Battleship movie. Making sequels is not the problem? Or maybe…? Well, judge for yourself.