Movie News
James Cameron On The Next Revolution in Cinema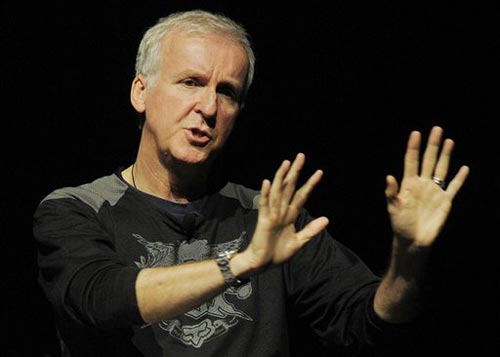 I said it once, I'll say it again – you have to love James Cameron! And if you ask me why – well, can't you see it? Man is full with some strange ideas that always work out fine at the end.
I'm sure you all remember Cameron's and George Lucas' presentation at ShoWest back in 2005 which changed the course of the history of cinema, and turned our world into 3D.
Now, Cameron has returned to ShoWest ( now renamed CinemaCon), to hold a presentation titled A Demonstration and Exclusive Look at The Future of Cinema. Thanks to guys from /Film, we have more details about the whole thing, so make sure to check out the rest of this report.
According to Cameron, the next revolution in cinema will be to begin shooting and projecting films with faster frame rates. 35mm movies are shot and projected at 24 frames per second. The 24 FPS rate became the industry standard for feature films in the mid-1920s after sound motion pictures were introduced, and have not changed since. The low frame rate results in a strobing effect when their is moderate camera movement.
You have probably accepted this technological artifacting, but it looks artificial and your brain interoperates it as such. Raising the framerate makes movement look a lot smoother, and gives the impression of an enhanced resolution. It is also one of the major factors of why some people experience discomfort while watching 3D movies.
Cameron presented test footage that he shot a month ago. He shot (using the Arri Alexa, Red Epic and Phantom cameras using the same lighting set-up) and screened the footage at 24, 48 and 60 frames per second, giving back-to-back comparisons between each of the framerates. Just in case you're wondering how that looks like, here's the best explanation that comes straight from Cameron:
"If watching a 3D movie is like looking through a window, then [with this] we've taken the glass out of the window and we're staring at reality."
Yeah, yeah, I already hear you asking – how much does it cost? Well, guess what, Cameron's Frame Rate push is that (in theory) requires no new equipment to implement. The high definition video cameras being used for movies today are able to capture images at high framerates, some reaching as high as 220 fps.
The second generation digital projectors (basically any projector bought since January 2010) are able to project at very high framerates. In fact, every 3D presentation we see now is being projected at 140 frames per second, projecting each eye a half dozen times. According to Cameron, theater owners won't need to buy new expensive equipment, as it will only require software upgrades.
At the end, let us mention that Cameron will be shooting Avatar 2 at high speeds, although he is unsure if it will be 48 or 60 fps. And there is time to upgrade the software in these projectors – Cameron mentioned that he's still working on a script and production would be at least 18 months out.
Well, we're impressed! And now, let us know what you think about this?