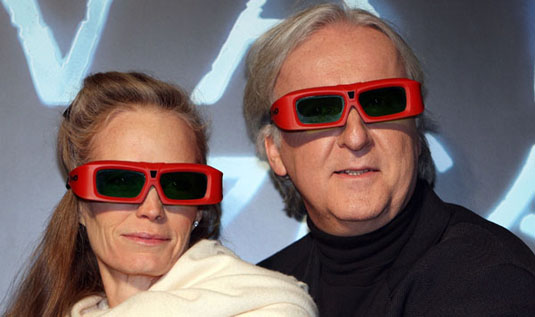 After we wrote about
Martin Scorsese
and
Andy Serkis
and
their opinions about 3D
, we are talking about 3D again! And yes,
James Cameron
is probably the best person when it comes to three dimensional world, since he's already preparing 2012 release for the 3D version of
Titanic
, which will coincide with the "100 year anniversary of the sailing of the ship." Cameron, pioneer in the field of motion capture, in the mid-'90s already used the nascent technology to create the massive crowd scenes and stunts in his blockbuster Titanic. On the other hand, we will not have to wait for
Avatar
on 3D Blu-ray for too long, because it's probably going to be released in fall this year. Actually, the whole idea is to do things the right way, and according to Cameron it should take six months to a year to convert a film to 3D in post production. In a short interview for
USA Today
, Cameron said: "They're converting
Clash of the Titans
in eight weeks. But I'm guessing six months to a year to do it right." "You know, everybody is an overnight expert. They think, "what was the takeaway lessons from Avatar? Oh you should make more money with 3D." "If people put bad 3D in the marketplace they're going to hold back or even threaten the emerging of 3D. People will be confused by differences in quality because the audience doesn't know the difference – when they put on the glasses on, they don't know if the problem is in the glasses, the TV or the actual way in which the stereo space is managed by the producers of the film." Of course, most of directors agree that this thing can not be the same or, if you prefer – as good as shooting in 3D, and Cameron is definitely one of them. Still, he is not totally against 3D post production of existing films as long as it's "done well" and "driven by the artist." When asked about 3D converting an older movie such as
The Wizard of Oz
, Cameron said: "That gets into an interesting area. At that point the people that own the library have the right to do it, particularly if they own the rights to all media. At least in the near term, that it won't be economically feasible to start converting old episodes of MASH to 3D because it won't look good. If you use some automated process or some cost-effective process for that type of programming its going to look like crap. It's like colorization looked like crap." The result, by his opinion, could be called "sort of 2.8D" so you can judge for yourself about the potential quality. We could also mention that, when asked should the existing film catalog be converted to 3D, Cameron's answer was: "..If it's done well. I think it should be driven by the artist. If
Star Wars
gets converted into 3D I think
George Lucas
should do it. If
Terminator
gets converted into 3D, I should do it." Pretty interesting statement. Since we all had a chance to see that
Avatar
and
Alice in Wonderland
worked out very well (just for a record Avatar has grossed $2.6 billion in theaters worldwide so far), it's no strange thing that this director thinks 3D market is "an extremely lucrative market and this is not a fad, this is not something that is going to go away." Let us also mention that the Black Eyed Peas gave an unannounced concert in New York's Times Square, and the event was filmed in 3D by none other than James Cameron. So, maybe he didn't won
Oscar
this year, but you could all agree that this director has certainly done the most to elevate 3D to new heights, and we appreciate him for that!