Movie News
James Cameron's Titanic 3D in April 2012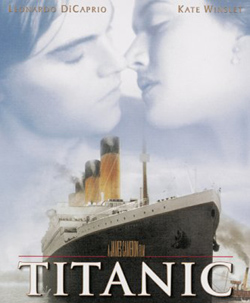 Surprise, surprise! Or, not?
James Cameron
's movie spectacle that broke all box office records back in 1997 is coming to cinema screens in
3D
, April 2012. Yeah, we are talking about
Titanic
! Nobody should be surprised with this date, because, let us remind you Cameron has previously stated that Fox is targeting Spring 2012 release for the 3D version, to coincide with the "100 year anniversary of the sailing of the ship". We all remember this epic romantic story whith
Kate Winslet
and
Leonardo DiCaprio
quite well, don't we? The huge ship RMS Titanic started its journey on April 10, 1912 from Southampton, England. On April 14, 1912, the ship sank after striking a massive iceberg, and only 706 people survived while 1,517 people lost their lives due to the lack of lifeboats. Rose DeWitt Bukator, one of the survivors of that tragedy, explained the whole story of sinking of the ship Titanic and also elaborated on her romantic experiences with an artist called Jack Dawson. And now, some numbers! Titanic movie, of course, was made on a budget of $200m making it the most expensive movie made until that date, but the box office takings of $1.8bn justified the money spent for Twentieth Century Fox & Paramount. So, before we all start with our negative comments on that conversion-thing, let's just repeat that intended month of release is nearly two years away, so it's not just about the historical timing, it's about some serious "3D work" as well.