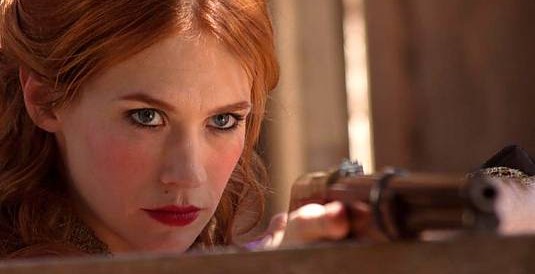 January Jones as a gun-wielding prostitute? We're in! Of course, we're talking about Logan Miller's latest western pic Sweetwater, where Mad Men actress stars together with Ed Harris and Eduardo Noriega. Head inside to check out the trailer and poster for the whole thing & let us know what you think! [jwplayer mediaid="157009″] Miller directed the pic from a script he co-wrote with Andrew McKenzie, which revolves around Jones' character – a young woman named Sarah, whose husband is murdered by a fanatical religious leader.
And you already know what that means – she cuts a swath of vengeance across the territory. In other words – Sarah risks all to avenge her husband's murder at the hands of a brutal sheep rancher.
Beside Jones, the rest of the cast includes Ed Harris as the town sheriff who helps Jones avenge her husband's death, Jason Isaacs, Eduardo Noriega, Jason Aldean, Vic Browder, Chad Brummett and Jenny Gabrielle. Let us know what you think about the trailer & stay tuned for more updates!