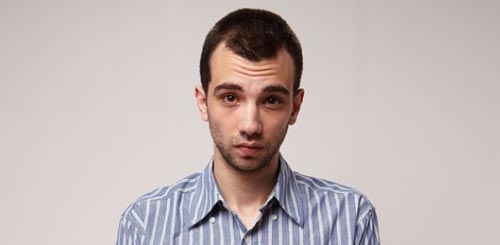 Time for Cosmopolis update! Jay Baruchel, Canadian actor probably best known from She's Out of My League has joined David Cronenberg's upcoming Cosmopolis.
I'm sure you all remember our previous reports about this project, so by now you know that movie has an awesome cast on board – Robert Pattinson, Samantha Morton, Juliette Binoche, Paul Giamatti, Mathieu Amalric and Sarah Gadon.
According to the latest reports, Baruchel will play "the shy guy who founded the company, and who acts as the trader's conscience."
Let us remind you that Cosmopolis follows Eric Packer (Pattinson), a 28-year-old multi-billionaire finance guru who drives around Manhattan in a high-tech, pimped out limo in order to get a haircut, with many interruptions along the way. Set within a 24-hour period, most of the novel takes place in his limousine and we assume the film will do the same.
During his day, Packer loses millions of dollars for his clients by telling them to bet against the yen, and then is stalked by two men seemingly seeking revenge. Obsessed with sex, Packer spends the day cheating on his wife (Gadon) and trying to outwit the men that are after him (Giamatti)."
Cosmopolis is set to shoot in west Toronto at Cinespace's Kipling studio facility. Stay tuned!