Movie Photos
Billy Bob Thornton's JAYNE MANSFIELD'S CAR Reveals New Clip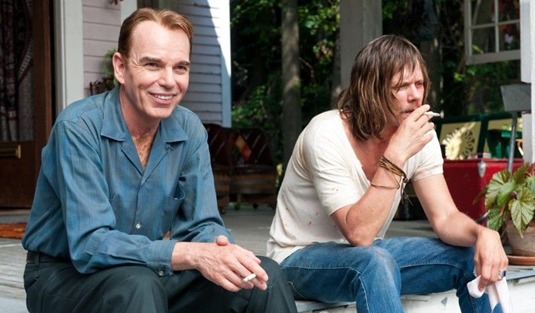 Here's the first clip from Billy Bob Thornton's upcoming Jayne Mansfield's Car. Yep, an upcoming, 'cause the movie (finally) opens next month. As you probably remember, we're talking about Thornton's first directing job since 2001's Daddy and Them, which definitely looks promising, and (let's be honest) has an awesome cast on board. Head inside to take another look at Robert Duvall and John Hurt & let us know what you think! [jwplayer mediaid="167784″] As usual, we will first remind you that Billy Bob Thornton directed the whole thing from a script he co-wrote with Tom Epperson, which is set in 1969 Alabama, and tells the story of fathers and sons, wars and peace, and the turbulent time that changed America forever.
Described as a funny, poignant and searching look at three generations of fathers and sons in the South during the tumultuous '60s, the movie follows:
…a young man in the 1940s who raises a family in Alabama after his wife leaves him for an Englishman and moves to England. When the wife dies, she leaves a request to be brought back to Alabama to be buried, and at thatpointthe man hasn't seen her in nearly 30 years. The two families – her original family she abandoned and her English family – meet and make an attempt to adjust to each other, with unevenresults.
Beside Thornton, Duvall and Hurt, the rest of Jayne Mansfield's Car includes Kevin Bacon, Shawnee Smith, Ray Stevenson, Robert Patrick, Frances O'Connor and Katherine LaNasa, and the movie is set to hit limited theaters on September 13th, 2013. As usual – click on all these pics to enlarge & stay tuned for more updates!