Movie News
Jeremy Renner as Hawkeye in The Avengers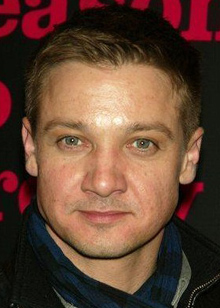 The Hurt Locker star
Jeremy Renner
is in final negotiations to play the Avenger Clint Barton, also known as Hawkeye. Sounds good? Why not, he could actually be just the perfect guy for this kind of role. Marvel universe just keeps getting bigger and bigger. So what do we know about this project right now? We know that
Joss Whedon
(best known for creating Buffy the Vampire Slayer) will direct Marvel Studios'
The Avengers
, and that pretty interesting cast is involved… So, Renner is about to join a great cast that includes
Robert Downey Jr
. as Tony Stark/Iron Man,
Chris Evans
as Steve Rogers/Captain America,
Chris Hemsworth
as Thor,
Don Cheadle
as James Rhodes/War Machine,
Scarlett Johansson
as Natasha Romanoff/Black Widow, and
Samuel L. Jackson
as Nick Fury.
Edward Norton
could reprise his role as Bruce Banner/Hulk as well, but no deal is in place. There are also rumors that
Nathan Fillion
will play Hank Pym/Ant-Man and
Malin Ackerman
will play Janet van Dyne/Wasp. Here's the description of Renner's character Clint Barton: "Clint Barton was orphaned at an early age when his parents died in a car accident and was sent to a children's home with his brother Bernard. He and his brother ran away to join the Carson Carnival of Traveling Wonders, and the pair worked as roustabouts… Hawkeye was trained by the original Swordsman (Jacques Duquesne) and Trickshot. Clint's life, however, would forever be changed after he stumbled onto the Swordsman counting the money he had just robbed from the carnival. The Swordsman offered Clint to become his partner in crime, but Clint rejected his mentor, sparking a fight that ended when the Swordsman left him for dead after he fell from the high wire. Clint wandered the country, working in various carnivals or otherwise making money out of the costume and persona of "Hawkeye". One day, when witnessing Iron Man save the lives of some people at the carnival, he decided to become a costumed crime-fighter himself….He soon met the Black Widow, who was working at the time as a costumed villain for her country, and she easily seduced the hot-headed adventurer, making him think it was in his interest to defeat Iron Man… Instead, he hoped to join Iron Man's team of Avengers. As a way of proving himself, he broke into "The Avengers". Mansion and convinced their butler, Jarvis, to play the role of a victim so he could display his powers. Iron Man vouched for Hawkeye, and he joined the new line-up that included Captain America, the Scarlet Witch, and Quicksilver." Stay tuned for a new update!