Movie Posters
Must Watch: Teaser Trailer For Jessica Cameron's Horror TRUTH OR DARE!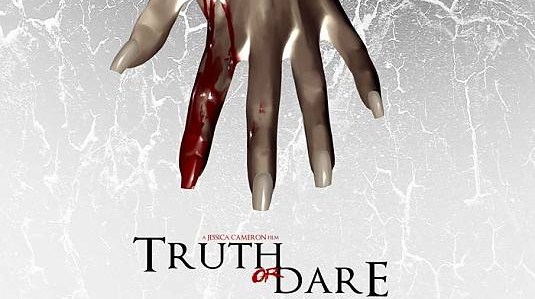 Jessica Cameron's directorial debut is here to remind us that Truth Or Dare is not just a game anymore! In other words – we have the official teaser trailer and poster for the brand new horror movie, which revolves around six college kids who find internet stardom when they make truth-or-dare videos with a violent twist. Sounds weird, looks creepy, take a look…
Jessica Cameron directs the movie from a script she co-wrote with Jonathan Higgins, and as we said – the whole thing centers on 6 college kids find internet stardom when they make truth or dare videos with violent twists. It's all fun and games until their number one fan decides he wants to play… [youtube]http://www.youtube.com/watch?v=eF1zGTE5kr0[/youtube] Beside Cameron, the movie will also star Devanny Pinn, Heather Dorff, Jared Degado, Marv Blauvelt, Ryan Kiser and Brandon Van Vliet. Here's what Cameron had to say about this trailer:
We chose to do a teaser to show fans the tone and type of film that we are going to create with their help. This film is inspired from all the conversations I've had with fans about what they want and also from my love of the horror genre. One of my favorite things about this project is that it goes to so many of the dark places that people fear. We tried to capture that with our teaser.
We think they all did a pretty good job with this video, and we're definitely interested in more updates. In the meanwhile, make sure you check out the official FB page for the movie, and you can learn more about their IndieGoGo campaign as well. Stay tuned!