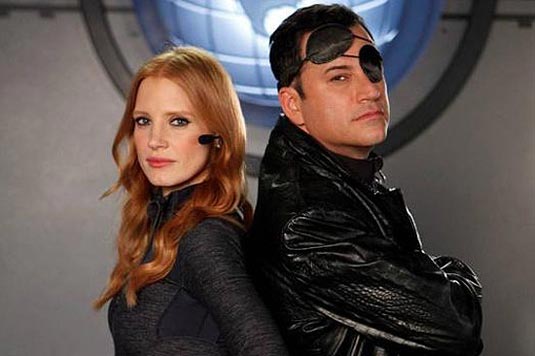 Ready for the sequel to Jimmy Kimmel's Movie: The Movie?
Shortly after the 85th annual Academy Awards, Kimmel debuted the seven-minute trailer for the star-studded sequel, Movie: The Movie 2V – Jessica Chastain, Bradley Cooper, Gerard Butler, Jude Law, Channing Tatum, Samuel L. Jackson, Salma Hayek, Bryan Cranston, John Krasinski, Armie Hammer, Rachel Weisz, Kerry Washington, Topher Grace, Bruno Mars, Jason Schwartzman, Amanda Seyfried and Matt Damon, who recently took over Jimmy Kimmel Live.
For those of you who still don't know, there is no actual movie, only the trailer, complete with a la Walking Dead zombie takeover, vampires… and leprechauns?
Movie: The Movie 2V also pays homage to The Avengers, as Kimmel and Chastain assemble their goofy version of the world-saving team.
Some of the funniest moments: Cranston as an armless piano player, Krasinski as superhero The Shrimp ("It's Shrimp time!"), Gerard Butler in chase of his Taken daughter, Oprah Winfrey as the president of the U.S., #Sexpocalypse and Damon being, as usual, the butt of the joke ("F***ing Kimmel!").
Will this surpass Movie: The Movie, seen more than 20 million times on YouTube? Watch the trailer below and tell us what you think in the comments: